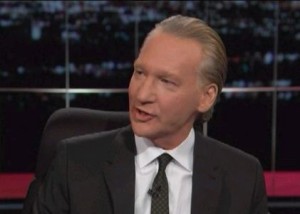 In what was both a surprising and not-really-that-surprising moment, Bill Maher defended the outspoken Hank Williams Jr., who was suspended permanently from ESPN after his controversial remarks comparing President Obama to Adolf Hitler.
ESPN is owned by ABC, the network that fired Maher after he made his infamous 9/11 comments. Because of his own personal experiences with network censorship, he defended Williams' right to make his statements without fear of being fired, despite vehemently disagreeing with his comments. When he brought up the story at the top of the show, Maher joked that referring to President Obama as Hitler on Fox News used to be called "The Glenn Beck Show."
But when he brought up the issue again later, he argued that ESPN was wrong to fire Williams because people should have the right to say whatever they want and not have to face consequences from their employers just so they can save face. However, Maher took the opportunity to take on the role of music critic and skimmed through the lyrics of Williams' song "If the South Woulda Won" and highlighted a few phrases he found interesting. They included:
"The day Elvis passed away would be our national holiday."
"I'd make my Supreme Court down in Texas."
"I'd have all the cars made in the Carolinas, and I'd ban all the ones made in China."
Maher couldn't help but feel like one crucial point was missing from this list of what America would be like if the South had won. Panelist Alan Grayson quipped that President Obama wouldn't have been born, to which Maher retorted, "He would not be free." Oof.
Still, though, if liberals and conservatives are able to come together on the important issue of censorship and freedom of thought, perhaps we're not as fragmented as we think.
Watch the video below, courtesy of HBO:
Have a tip we should know? tips@mediaite.com
Josh Feldman - Senior Editor