Bill Maher Tells Letterman: Elisabeth Hasselbeck 'Had Some Sort Of Bug Up Her Ass'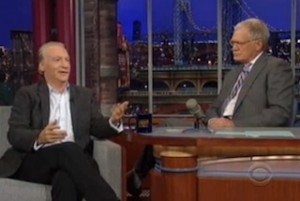 Yesterday morning, Bill Maher appeared on the set of The View and instead of a convivial discussion about the topics of the day or a promotion of whatever book he was trying to sell, co-host Elisabeth Hasselbeck confronted the provocateur over what she deemed an inappropriate joke in what was a pretty uncomfortable interview. Cut to last night's setting of The Late Show where host David Letterman asked Maher to explain what happened.
Some background: yesterday, a nonplussed Hasselbeck took exception to a joke Maher made back in spring of this year in which he suggested that former Egyptian leader Hosni Mubarek release then-captured Lara Logan in exchange for co-host of The View. To Hasselbeck's credit, she calmly confronted Maher over what she claimed was not a funny joke, and while the back and forth made for compelling television, it was the awkward "holy shit" style, and not the "what smart and funny people" type of TV programming producers typically aim for.
Safe from Hasselbeck's dour and unforgiving mien, Maher went back to criticizing Hasselbeck insinuating that she simply didn't get his style of humor. To his credit he refused to play the part of the victim, though he did joke that his contentious appearance on The View made him feel "like a teenaged boy at Penn State." Maher summed up by archly saying that he really liked her a lot and this was all an act where the play that "they don't like each other on TV." Watching Hasselbeck in yesterday's clip makes me think that this is perhaps another point on which the two don't agree.
Watch the clip below, courtesy of CBS:
Have a tip we should know? tips@mediaite.com