Bill Maher To OWS: Stop Camping In Parks And Start Participating In The Political Process
Maher To OWS: Stop Camping In Parks And Start Participating In The Political Process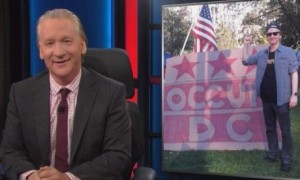 Whatever happened to Occupy Wall Street? It was a big thing last year, it was going to be the left's answer to the Tea Party, now no one really knows where it's going. Bill Maher expressed his frustration with the movement in his final New Rule tonight by saying they actually need to stop organizing in parks and start becoming a potent political force. But right now, Maher said, all they're doing is just camping.
RELATED: So The Wall Street Protests Are Super Popular, But Will That Last For Long?
Maher mocked the movement for its many grandiose ideas and lack of realism, and while he admitted he enjoyed going out to Occupy DC last year, "having a sleepover in the park for four months didn't cause Wall Street to crumble." He acknowledged Occupy has "the right message," but its execution and public awareness campaign are not exactly the sort to make substantive change.
Occupy's big event this summer is on July 4th, and according to Maher, their goal is "to facilitate a visioning process designed to allow all voices to be heard while allowing repeat visions to organically rise to the top." And while "visioning process" makes me think of kaleidoscopes, it's apparently what they're planning on doing next month. And the next day, Occupy is hosting a "guitarmy." Yes, a "guitarmy."
Maher advised the movement that it needs to start getting more involved and amassing political power, just like the Tea Party did in 2009.
"[The Tea Party] mobilized. They put on a nice shirt and their best teeth. And they got out there… and they drafted candidates, registered voters, and did all the stuff that when the left does it, it's called 'using the methods of Saul Alinsky'. The Occupy movement could do the same thing for the Democrats. In fact, we need Occupy to be our Tea Party. An unwavering block that will force things to the left as relentlessly as a new pair of jeans with a tight inseam."
Watch the video below, courtesy of HBO:
Have a tip we should know? tips@mediaite.com
Josh Feldman - Senior Editor