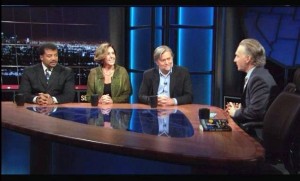 Following his comments Wednesday on The Ed Show that a Republican could beat President Obama in 2012 because of the grim economy, Bill Maher reiterated his point that "the magic is gone" and asked his panel if liberals were starting to have "buyer's remorse" about President Obama.
Maher began by clarifying that he still likes Obama, as do many liberals, but he compared their relationship to one "where there is a giant fight and you said so many nasty things that you know you're never really going to get it back together," but will ultimately stay together because "who are you gonna date, Mitt Romney?" But he believed that this week was a tipping point in Obama's presidency, and he lost more liberal support by not fighting enough during the debt debates.
Panelist Joan Walsh insisted that Obama is still very popular with liberals, citing his high approval ratings among African-Americans and liberal Democrats, but agreed that she and Bill were among the president's harshest critics on the left.
Then Maher asked Walsh to bring out her Wayback Machine and think about whether Hillary Clinton could have made a better president than Obama. She hesitated, saying "I don't regret anything in life so I don't really go there," but fellow panelist Neil DeGrasse Tyson argued that she would have been better. (Disclaimer: Hillary once called Tyson her "favorite astrophysicist.")
Tyson admitted that since he's an astrophysicist, it wouldn't be prudent of him to predict what goes on in Capitol Hill, but he believes that Clinton would have been a better negotiator than Obama. Maher quipped that Hillary has had experience "with difficult men," then steered the discussion to his favorite target: the tea party.
He asked Palin documentarian Stephen Bannon why conservative Republicans opposed putting taxes on the table, and even refused to close loopholes in the tax code for oil companies. Brannon took on the arduous task of summing up the tea party platform in a brief soundbite, and came out with something that may have been a surprise to some of its detractors.
"The tea party perspective [feels there is] socialism for the very wealthy, socialism for the very poor, and a brutal form of capitalism for everybody else, and what they want to do is shrink the size of the federal government.
I don't think I've ever heard the "brutal form of capitalism" argument used before, and it's possible some tea partiers might take issue with that characterization, but nonetheless it's a fascinating comment coming from someone so engaged with the tea party he sought to make a documentary about one of its supposed leaders.
After a brief discussion on the economic values of the tea party, Maher brought up a controversial Fox Nation blog post from earlier today calling Obama's birthday a "hip hop BBQ," and Walsh was quick to suggest that this was the latest example of Fox trying to highlight President Obama's race in their news stories. Tyson, the scientist on the panel, was quick to point out that genetically, Obama is just as white as he is black.
Watch the video below, courtesy of HBO:
Have a tip we should know? tips@mediaite.com
Josh Feldman - Senior Editor