Bill Maher's Surprising Take: 'Maybe The Voting Rights Act Is Not Helping Minorities'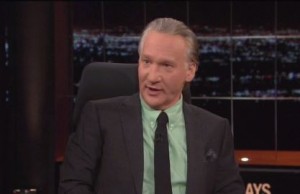 Bill Maher tonight took a surprising stand against the Voting Rights Act. He argued that rather than helping minorities, the Voting Rights Act might actually be hurting the country if it continues redistricting that, as a side effect, allows "crazy right-winger Republicans" to get elected to Congress. Maher was challenged by panelist Gavin Newsom, who argued that there is still a lot of racial resentment and antipathy in the United States, and minority groups still need the protections provided by the Voting Rights Act.
RELATED: Touré Tears Into Antonin Scalia Over 'Racial Entitlement' Argument: This 'Is Completely Racist'
Maher argued that "maybe the Voting Rights Act is not helping minorities," because by gerrymandering districts to make sure they have representation in Congress, they also allowed for "lily white districts where you could have crazy right-winger Republicans get elected." Newsom said that the fact a Supreme Court justice was arguing about racial entitlements is enough of a reason to keep it in place.
Newsom brought up voter ID laws being implemented in a number of states in the past few years, finding it mind-boggling that anyone would want to "turn back the clock" on voting rights. Monica Mehta said it was ridiculous to suggest racism no longer exists in the United States, saying that she herself has constantly been a subject of random security checks at the airport. Maher shot back that that's more racism combined with ignorance.
Watch the video below, courtesy of HBO:
—–
Follow Josh Feldman on Twitter: @feldmaniac
Have a tip we should know? [email protected]
Josh Feldman - Senior Editor