Bill Maher Visits CNN To Talk 'Bullies', 'Question Marks' And 'Lazy Moneygrubbers'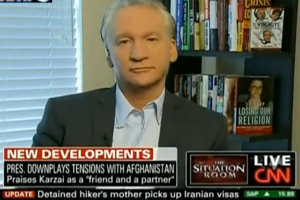 Bill Maher is a comedian who considers himself a relevant political commentator. To his credit, he likes to test his substantive mettle outside of his home turf on HBO sometimes, and yesterday he visited Wolf Blitzer on CNN's Situation Room for a rapidfire round of commentary on all the day's top stories, from Afghanistan to Arizona, Elena Kagan and Levi Johnston. Across the topics, a uniform disappointment was noticeable with the Obama administration, despite pointing out that he is still a fan.
Blitzer starts off with a serious question on the future of America's relationship with Afghanistan, and before you can think it, Maher responds "Well, first of all, I'm just very flattered that I'm your go-to guy on Afghanistan and Karzai because, you know, who better?"
He expresses disappointment with the continued war in Afghanistan, citing that the terrorists "are already here," so fighting them over there doesn't make sense to him. The way the Obama administration has handled the Gulf oil spill and, on a greater scale, the oil industry in general is also "not one of the places where I'm a big fan," though he notes that he is more upset with "how this country has handled oil" than the White House specifically.
He wasn't too happy with Elena Kagan, either, though he praised her for being prepared to be a Supreme Court Justice despite being young enough to be judicial "jailbait." Citing how little is known about her beliefs, Maher argued that Obama should have picked someone openly liberal, just as George W. Bush picked openly conservative justices. "We could do a lot better than a question mark," he concluded.
Maher saved the best for Sarah Palin, however, who he called a "lazy moneygrubber" and added, "you know who had it right? That Levi."
The Situation Room segment below:

Have a tip we should know? tips@mediaite.com