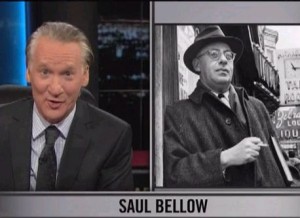 One of Newt Gingrich's most bizarre lines of attack against liberals and President Obama is that they're basically working from the playbook of Saul Alinsky. This has been a rally cry of his for months now. Most of us who aren't that aware of early 20th century political activists have no idea who the hell Saul Alinsky is, but luckily, Bill Maher gave everyone a primer on who this insidious man is on his show tonight. And what he discovered is that it's not just Newt Gingrich, but also Glenn Beck, who has turned Alinsky into the latest liberal boogeyman.
Maher joked that for Alinsky to garner the ire of Newt, he must be a divorce lawyer or something. And he admitted that even as a member of the evil liberal media, he had no idea who the actual fuck this person is. But after a quick Wikpedia search, Maher realized that Alinsky is best known for being a civil rights advocate in the 1950s. Like the president, Alinsky was a community organizer, but the chances of them ever swapping notes are pretty slim, mostly because Alinsky died during Obama's preteen years.
RELATED: Newt Gingrich: Historians Are Going To Be 'Amazed At The Naivete And Lack Of Knowledge Of The Obama Administration'
But the Alinsky line of attack was not the main target of Maher's new rule, but rather the Republican attempts to paint Obama as someone he is clearly not. Maher went down the list of attacks (including a small dig at Dana Rohrabacher's comments from earlier in the show).
"This is how politics has changed. You used to run against an actual president. But now you just recreate him inside the bubble and run against your new fictional candidate."
Maher argued that as partisan and occasionally hyperbolic as George W. Bush's critics were, at least they were attacking the actual person. But for Gingrich to actually accuse Obama of being "anti-work," Maher suspected Republicans were operating on "a paranoid feeling about what he might do."
Watch the video below, courtesy of HBO:
Have a tip we should know? tips@mediaite.com
Josh Feldman - Senior Editor