Bill Maher: What Exactly Has Obama Done That Has Made Conservatives So Angry?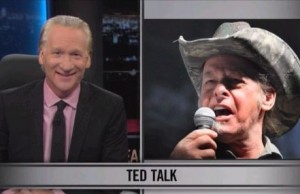 Bill Maher finally got around to Ted Nugent in his final New Rule of the night, but used the rocker's recent tirade against President Obama to ask the larger question about conservative outrage over the president. He argued that the country has really not changed that much from the George W. Bush era and, in fact, Obama has been making concessions that have not exactly pleased liberals. So what, Maher asked, are conservatives so angry about?
RELATED: Maher Distinguishes Between His Bush Insults And Conservative 'Disrespect' Towards Obama
Much has been made of comments made in some corners that Obama is the most radical president in this nation's history. Maher observed, "How can the same guy… make these people think that America's changed so completely, and yet make me think like it's barely changed at all?" He said he's noticed no real significant change in our nation's freedoms since Obama was sworn in.
Maher shot down claims that Obama has been racking up the government spending with statistics showing that of every president since Ronald Reagan, Obama has had the smallest annualized growth of federal spending. Or, in Maher's words, "the black man's is the shortest." He pointed to Obama's concessions and moderate actions on the financial crisis, oil drilling, and other big issues. Once again, Maher asked conservatives exactly what they mean when they claim Obama is the most radical president of all time.
"How can you guys be so unhappy with Obama when I'm so unhappy with Obama? You think you got coal in your stocking? I wanted single-payer health care, a carbon emissions bill, gun control, and legalized pot. If you get to carry around all this outrage over me getting that shit, shouldn't I have gotten it?"
Maher also made a not-so-subtle Trayvon Martin reference by joking that Obama "could not be less threatening if he was walking home with iced tea and Skittles."
Watch the video below, courtesy of HBO:
Have a tip we should know? tips@mediaite.com
Josh Feldman - Senior Editor