Bill O'Reilly, Brit Hume Pressure Romney To Define Foreign Policy Views In Major Address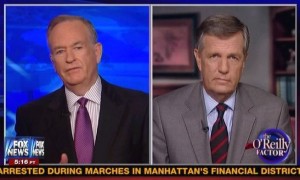 On Monday night, Brit Hume joined Bill O'Reilly to discuss the recent unrest in the Middle East. Taking a look at Romney's response to the situation, the two noted that the GOP hopeful needs to speak in depth about the issue to fully outline his views.
"You are basically looking at a policy of three and a half years that really hasn't advanced American interest in the Muslim world," O'Reilly said of President Obama's foreign policy record. "Afghanistan is a mess. Pakistan is a mess. Iran is a huge threat. Egypt, you know, turning on us. Where are we improving?"
But how that affects this election depends on how long the unrest continues, Hume noted. If it dies out, things get forgotten, given today's accelerated news cycle. "It also depends, to some extent, how much of an issue the Romney campaign wants to make of it," he said.
O'Reilly asked if Romney shouldn't "go to town" with it — to which Hume remarked that Romney's statement on the issue "proved highly controversial," and the question now is whether he'll follow up. Hume said he should do just that:
For a man who is challenging a sitting president, you have got to pass a couple of tests. Surely one of them is foreign policy authority and foreign policy, the ability to converse on foreign policy. Something happens in the world — something major, the murder of an ambassador, wave of violence in the Middle East. It seems to me we need to hear from Romney, perhaps at some length, about what his overall view of this is.
O'Reilly chimed in that he would hold a press conference if he were in Romney's shoes, or make a speech. Such a move "would put some meat on the bones" of his one previous statement, Hume said.
But will Romney do anything of the sort? All signs pointing to no, Hume replied.
The segment below, via Fox News:

Have a tip we should know? tips@mediaite.com