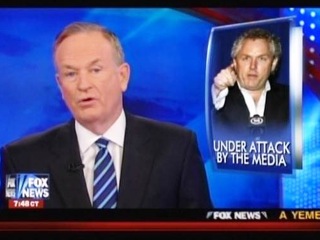 After a completely bizarre beginning of the week, Andrew Breitbart is reaping the praise he sowed after putting his career on the line over the lurid truth of Rep. Anthony Weiner's online sex life. Breitbart spared no scorn for the media that tried to sink him, and revealed their coordination to blame the matter on him. The depth of the intrigue prompted Bill O'Reilly's sincere concern, and asked O'Reilly what he was doing to protect himself from threats.
O'Reilly asked Breitbart who was working to protect the Congressman, and first and foremost blamed, of course, Media Matters, noting he could not name "a more grotesque organization in the history of media." Reiterating that he has "incredibly good sources" before he published the story, he also noted that he was told by an anonymous source that "around 10:30 [the night of the first news story], his people were called into a pub and were told to go to Capitol Hill," where they organized their public response. "Their strategy throughout the weekend was to make sure to blame Breitbart," he noted, citing the initial Daily Kos attack as the first example, but calling MSNBC the nexus of the thinking.
The nature of the scandal seemed to turn on O'Reilly's threat censors, and he asked, earnestly, if Breitbart feared for his life. "I don't want to talk about what precautions I take, but I certainly get threats left and right." O'Reilly told him he had been in the industry long enough to have gotten a few threats himself. "Be careful," O'Reilly warned him, ending the segment on a somber note that served to remind the audience that this scandal has consequences on the lives and loved ones of those involved far beyond a litany of unfunny "Weiner" puns.
The segment via Fox News below:

Have a tip we should know? tips@mediaite.com