Bill O'Reilly Takes On 'Blatant Lies' About Him Made On HLN's Joy Behar Show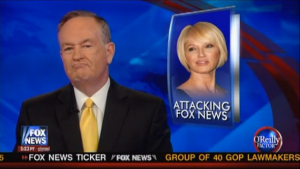 Thursday night on The Factor, host Bill O'Reilly took a look at the "decline of the American media." He noted that the Los Angeles Times had published comments made by actress Ellen Barkin concerning the Tea Party and Fox News — comments O'Reilly described as "slander." He then set his sights on CNN's sister channel, HLN, where host Joy Behar spoke with Barkin about being on O'Reilly's radar — and being on the receiving end of some rather colorful insults — for her comments about his home network.
O'Reilly had one teeny little problem with this:
RELATED: Report: Joy Behar Set To Leave HLN At Year's End
Well, here's the problem with Ms. Barkin's statement: It's a flat-out lie. I have never mentioned Ellen Barkin on this broadcast. Ever. And I would never call her names.

Now. We know Ms. Behar. We know what she does. And today HLN announced she will no longer be doing it on that network; her show is finished at the end of the year. But the Headline News operation — and CNN, which is the parent company [Turner Broadcasting System, Inc. is actually the parent company for both networks] — have an obligation not to allow blatant lies on their air, and to challenge statements that are provocative, like that one.
He chalked up the incorrect information put forth by Behar and Barkin as being indicative of an overall decline in American media standards.
Have a look at his comments, via Fox News:
Have a tip we should know? tips@mediaite.com