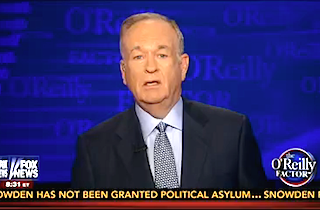 On Thursday night, Bill O'Reilly read emails from viewers as part of his "Mad as Hell" segment. The Fox News host was joined by Heather Nauert, who helped him determine whether those viewers have the proper justification to be so angry. One letter from a Louisiana man helped the host get to the bottom of Fox's infamous "fair and balanced" motto.
"I'm aggravated when I see smug liberals like Kirsten Powers and Alan Colmes on the air. Enough already with these leftists," viewer Ed Ortelli wrote.
"Well, look, 'fair and balanced' is the Fox News motto, Ed," O'Reilly said, smirking. "If the liberal view were not represented we would be liars, so that's ridiculous." A brave O'Reilly asked Nauert how many Fox contributors do "lean left."
She came up with a total of 19 paid contributors on the Fox network who have a liberal point of view, citing Bob Beckel and James Carville as examples. But just when you thought Nauert was going to give a number for the right-leaning contributors, she simply said, "We have a mixed boat."
A quick look at the Fox News website shows that the network listed a total of 175 on-air personalities.*** So if they are admitting they only have left-leaning contributors, that leaves 156 who possibly go the other way. That means Fox News is approximately 11% liberal and potentially 89% conservative. In other words, "fair and balanced."
O'Reilly's reaction to Nauert's assessment said it all. "So we are fairly, in our commentary, balanced," the host remarked. "We have much more on the left than, say… uh… I'm trying to think, you know CNN? I don't know. But 19, OK, that's the number."
***UPDATE — Aug. 8, 10:48 a.m. ET: That 175 total includes all anchors, hosts, and experts on the network, many of whom do not express their political views in a way that paid contributors and opinion commentators would. As such, the percentage of conservatives on the network would obviously be significantly lower than 89% of on-air staff.
Watch video below, via Fox News:
[Photo via screengrab]
— —
>> Follow Matt Wilstein (@TheMattWilstein) on Twitter
Have a tip we should know? tips@mediaite.com