Bill O'Reilly And Bernie Goldberg Bash CNN For Cain Coverage, Neglect To Note New Sexual Assault Allegation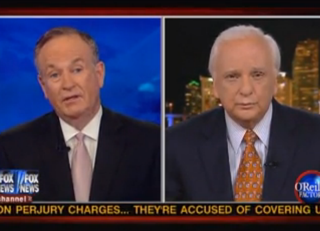 It has been quite an eventful afternoon for Herman Cain. After a week-long barrage of coverage relating to at least three women accusing him of sexual harassment, today he was confronted with legal celebrity Gloria Allred's latest client (who has no intention of taking legal action) Sharon Bialek, who accused him of "reach[ing] for my genitals" in a car. But if you missed the press conference today, you wouldn't have found out about it from Bill O'Reilly, despite he and critic Bernie Goldberg dedicating a segment to the media's inadequate coverage of Herman Cain.
RELATED: http://www.mediaite.com/tv/fumble-or-pass-herman-cain-turns-tough-medicare-question-over-to-gingrich/
In a segment that would have been entirely comprehensive on where the media was with the Herman Cain saga sometime last week, Goldberg and O'Reilly discussed the way the media was treating the Republican presidential candidate, with Goldberg prefacing everything with "I don't know what Herman Cain did or didn't do" and suggesting there was a possibility this was "in fact, a legitimate, serious story." That said, he would have wanted to see more coverage like this for President Barack Obama and his "relationship with a former domestic terrorist," Bill Ayers, in 2008. The reason that the coverage was more intense of Cain, Goldberg posits, is that, while President Obama was "young, cool," and black, "Herman Cain is only black."
O'Reilly then noted that other networks were also trailing him in the ratings, and the only explanation he could find for this is that "the folks get it" and don't find other networks credible. Goldberg added that it was more complicated than that, that people "tune into political opinion shows to validate their own opinions" and, as America is a right of center country, this benefited Fox News.
RELATED: Herman Cain's Fourth Accuser Alleges 'He Reached For My Genitals'
Dedicating a segment to Herman Cain without noting that the accusations against him now have a face (albeit with that of Gloria Allred attached), and that they have escalated from harassment to assault, made the segment feel incomplete. The elephant in the room is inescapable, and while it does nothing to diminish either O'Reilly's or Goldberg's argument comparing the coverage of Cain to candidate Obama, it still doesn't ring genuine to ignore the top story of the day in a segment evaluating political coverage elsewhere. The press conference did air only on CNN live in its entirety, however, so O'Reilly and Goldberg are not alone in neglecting to note it, but by not speaking of it, they leave themselves open to the same criticism to which the segment was dedicated.
The segment via Fox News below:

Have a tip we should know? tips@mediaite.com