O'Reilly And Bernie Goldberg Blast CNN For Playing 'Stupid Girls' During Palin Segment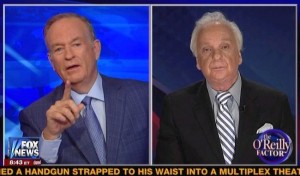 During Monday evening's O'Reilly Factor, Bill O'Reilly and frequent guest Bernard Goldberg took on CNN for its use of and subsequent apology for the Pink song "Stupid Girls" playing during the introduction to a segment about former Republican vice presidential candidate Sarah Palin.
In the wake of the outrage over the song's seemingly purposeful placement, CNN apologized and said "the music selection was a poor choice and not intended to be linked to any news story." O'Reilly joked, to off-set laughter, "Then why was it used before a news story?"
"The most offensive part of all of this is this statement by a news organization whose only mission is to tell the truth and they say this was unintentional," Goldberg said. "They have literally millions of songs in their database to choose from. They could have picked 'Fly Me to the Moon' from Frank Sinatra, they could have picked anything. They picked 'Stupid Girls' and they have the nerve to tell us it was unintentional.
O'Reilly then asked Goldberg what CNN meant by the song not being meant to be connected to a story. "What was 'Stupid Girls' connected to if not the news story about Sarah Palin?"
"CNN and other news organizations expect politicians to tell the truth; they expect business people to tell the truth; they expect church people, they expect athletes to tell the truth," Goldberg responded. "And they issue a statement like this…. I'm guessing the people who watch them don't like Sarah Palin all that much anyway, which is why they did it, and thought that, like in the old days, they could get away with it.
"Well, it's not the old days anymore, CNN," Goldberg concluded, "you can't get away with this stuff."
Check out the segment below, via Fox News:
— —
>> Follow Andrew Kirell (@AndrewKirell) on Twitter
Have a tip we should know? tips@mediaite.com