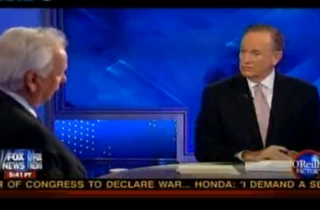 President Barack Obama may be having a hard time rallying the American people behind American intervention in Libya, but tonight he found some lukewarm support from an unlikely source: Bill O'Reilly and Factor regular Bernie Goldberg. While neither of the two have been huge fans of the president in the past– and Goldberg admitted to some skepticism on the Libyan situation, both agreed that the "industry of Obama-bashing" and "rigid ideology" was harming America.
Their conversation centered mostly around the left-wing reaction to the Libyan intervention, and Goldberg and O'Reilly agreed that much of the criticism on that side would come from people who considered the President too right-wing for their tastes. "They don't feel comfortable with the use of American force," Goldberg noted, but, he added, "they will support it because they went about it the way they'd like him to," meaning going to the United Nations and the Arab League seeking international support. O'Reilly found this somewhat distasteful in light of the fact that "he didn't go to Congress" but, instead, the UN, though Goldberg concluded that, despite this, "Barack Obama isn't their [the far left's] kind of liberal."
With national sentiment on the Libyan conflict almost perfectly split in half, Goldberg added that he felt somewhat similarly. "I went back and forth and said 'I don't fee comfortable with this,'" he noted, but added that he supported the President ultimately, and that blanket attacks on him were not to his liking. "They make a big deal out of this brackets thing," Goldberg commented, referring to criticism on the right that the President had been filling out NCAA brackets on the job. "Well, that's just Obama-bashing, pure and simple" O'Reilly replied, arguing that there was an "industry of Obama-bashing" that was fed by stories such as the President's interest in basketball sometimes. "We have rigid ideology," Goldberg agreed, that was harming the national political dialogue.
The discussion via Fox News below:

Have a tip we should know? tips@mediaite.com