Bill O'Reilly And Bernie Goldberg Explore: Is Occupy Wall Street Anti-Semitic?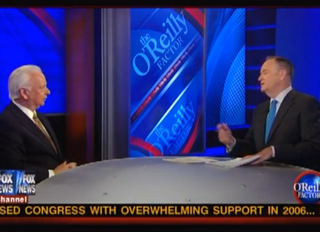 After challenging Dr. Marc Lamont Hill at the top of the show to help him explore the potential racial elements of Occupy Wall Street, Bill O'Reilly returned to the potential bigotry of the movement with Bernie Goldberg, discussing the various anti-Semitic signs that had been seen at Occupy protests across the country. Were these as representative of the protests as racist signs seen at Tea Party events?
RELATED: Julian Assange Rallies Crowd At Occupy London, Is Quickly Shepherded Away By Police
The segment was not, as it may have initially appeared, cut from the same template as the debate with Hill– here the media in question was an interview with an eloquent schoolteacher at Occupy LA who sat down with Reason.tv and politely explained that "Zionist Jews need to be run out of this country." Needless to say, the bit was quite distressing for Goldberg, though he emphasized that he did not know how widespread such sentiment was. "But I do know this," he added– "she is certainly not the only one." In fact, several posters throughout the Occupy protests in the weekend showed racist imagery, and a group calling itself the "American Nazi Party" lent its official support over the weekend (though, for what it's worth, so did "Communist Party USA," so who knows what that means).
RELATED: Ed Schultz On Occupy Wall Street: Unlike Tea Party, No Racist Signs Or Firearms
The fringe elements of the live-in revolt did not seem to concern Goldberg so much as the media reaction to it, however, especially considering the reaction to the Tea Party movement. "You could've had ten million people at a Tea Party– if there was one racist sign, it was going to get on the air." The woman in the Reason video, Goldberg explained, "puts liberals and liberal journalists in a dilemma… there's a black woman who speaks very well, is dressed nicely, and she's a bigot." That, Goldberg concluded, wasn't supposed to happen, while racist signs at a Tea Party rally "fit their worldview," and so were given media coverage. O'Reilly agreed, saying of the anti-Semitism at Occupy LA: "[the media] are going to ignore it… that's what they always do when something doesn't fit into their worldview."
The segment via Fox News below:

Have a tip we should know? tips@mediaite.com