Bill O'Reilly And Bernie Goldberg Tear Into NBC For Handling Of Romney/KKK Story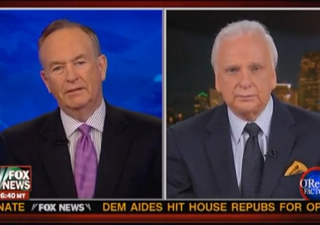 Last week, MSNBC reported on a story about how Mitt Romney had been using the phrase "Keep America American," a staple of the Ku Klux Klan. As it turns out, the story was not exactly true, and Chris Matthews issued a public apology on the network's behalf sometime thereafter. On tonight's Factor, Bill O'Reilly and Bernie Goldberg discussed the story, with Goldberg suggesting this was a product of the management's attitude towards news, not just the producers who ran the story.
RELATED: Update: NBC News Brass Reportedly Furious Over Handling Of Romney KKK Slogan Story
O'Reilly defended NBC for giving an apology, noting that "they did what they had to do." Goldberg was less forgiving, though did praise Matthews, as he "showed courage and apologized for something he didn't do." But from those who run NBC, he admitted "the apology means little to me." O'Reilly retorted that he appreciated the apology because he believed it was a product of Comcast having taken up new management there, adding, "they would not have apologized a year ago."
"The management of a company sets the tone for what gets on the air," Goldberg suggested. He then turned his aim towards the team who actually ran with the story, concluding that the only reason a thinly-sourced story like that would run is because it fits a predetermined worldview. "The chucklehead anchor and his braindead producer don't even wonder… why would Mitt Romney want to intentionally associate himself with the Ku Klux Klan?" Goldberg asked, a "reckless mistake" he said he could never see MSNBC making with a Democrat.
The discussion then veered to a new special relationship MSNBC would have with the organization Pro Publica, which received praise from Goldberg despite him labeling it a "semi-news organization" for its ideological bent.
The segment via Fox News below:

Have a tip we should know? tips@mediaite.com