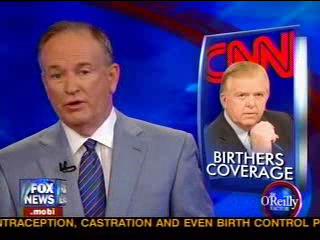 Fox News' Bill O'Reilly knows President Barack Obama was born in Hawaii, and he knows CNN's Lou Dobbs just keeps raising the issue. But being the top-rated cable news host for years, he also knows something else – ratings.
On some level, there seems to be a maverick-y respect that O'Reilly has for Dobbs, who continues to bring up the birther debate in, as O'Reilly assumes, an attempt to gain viewers. And they just can't stop talking about each other.
Last night on The Factor, O'Reilly started his segment, as he does now when he brings this issue up: "It's bogus, the President was born in Hawaii, and there's no question about it." Now let's talk about it!
He played a clip from Dobbs' radio show yesterday – and made sure to include a certain part. "I've got to say a quick thanks to Bill O'Reilly," said Dobbs on his radio show. "Bill O'Reilly is a stand-up guy and you can take that to the bank."
Then he and Bernard Goldberg chatted about Dobbs some more, and Goldberg pretty much echoed everything Dobbs has been saying for weeks.
And these buddies may get a chance to continue the rating-flirtation face-to-face. As strange as it would be for one cable news host to appear on another cable network news host's program, it may happen. TVNewser reports "Dobbs' outside publicists pitched The O'Reilly Factor producers for the CNN host to appear on Fox News. FNC confirms this account."
It would be a fairly unprecedented event: the 7pmET host on CNN appears on the 8pmET FNC host's show. For Dobbs though, it's a win-win. Appearing on the top-rated cable news show is sure to help his cred – and his ratings. For O'Reilly, the benefit is less clear. It is a bit of a dig at CNN (especially if the booking goes around the network, as the TVNewser report seems to indicate). And it would likely boost O'Reilly's viewership even more, just for the pure curiosity factor.
Either way, these two can't stop talking about each other. And they may need some closure.
Here's the O'Reilly segment from last night:

—–
» Follow Steve Krakauer on Twitter
Have a tip we should know? tips@mediaite.com