Bill O'Reilly And Marc Lamont-Hill Clash Over Fallout From Romney's NAACP Speech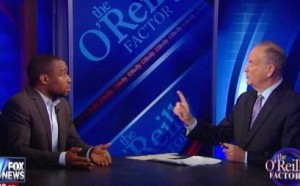 On his show tonight, Bill O'Reilly said Mitt Romney was "brave" for speaking before the NAACP today even with the expectation that he would get booed. His guest, Marc Lamont-Hill, disagred, saying that Romney had to, otherwise he would get reamed in the press. Lamont-Hill argued that Romney should have tailored his speech to avoid all the booing, but O'Reilly dismissed that strategy as patronizing.
RELATED: Rep. Cleaver: Romney Must've Had 'Horrible Advice' To Criticize Obama At NAACP
In his Talking Points segment, O'Reilly said that while Romney has virtually no chance of picking up any significant percentage of black voters, he was regardless "a brave guy for going." O'Reilly did, however, point out that some African-Americans may stay home because of personal disappointment with President Obama, giving Romney an ever-so-slim nudge in the overall polls. Lamont-Hill told O'Reilly that Romney was not brave for speaking to the NAACP, because if he didn't, he would be "trashed in the press." O'Reilly said Romney still got negative press for his appearance anyway.
Lamont-Hill thought Romney could have focused more on his economic message and less on attacking President Obama. O'Reilly asked how Romney could talk about the economy without referencing Obama's stewardship and, more importantly, rising unemployment in the African-American community. He told Hill it sounds like he would have wanted Romney to change his message for a black audience, which to O'Reilly, sounded like a "race thing." Lamont-Hill said Romney didn't need to edit his beliefs, but just be more prudent with how he presented his case.
"If I'm going into an NAACP convention and I know the people are going to boo me, just as a matter of strategy, I would say something that would stop me from getting booed. I wouldn't compromise my principles… I would be honest."
Lamont-Hill said Romney could have been more specific about his policies, to which O'Reilly countered that Romney was plenty specific, which is why he got booed. The segment concluded with O'Reilly and Lamont-Hill clashing over black voters who support Obama mostly because of his race.
Watch the full segment below, courtesy of Fox News:
Have a tip we should know? tips@mediaite.com
Josh Feldman - Senior Editor