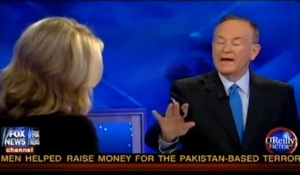 While some have (facetiously?) congratulated them for the actual results, Fox News had a really good election night. Not only were their ratings dominant, but they also earned significant praise from media critics who saw their analysis as more balanced than others. But not everyone saw it that way, namely Dana Milbank, who was harshly critical of what he saw as Fox News' bias coverage. This predictably raised the ire of Bill O'Reilly and Megyn Kelly, who pushed back on last night's Factor.
In the following clip, Kelly (who co-hosted Fox News's election night coverage) defends the specific comments that Milbank claimed to be evidence of her bias. Milbank wrote on Wednesday:
As Fox's Megyn Kelly announced that one Democratic senator, expected to lose big, was in a race "too close to call," she commented: "That's, uh, an interesting update." When Rep. Barney Frank (D-Mass), said by Fox commentators to be endangered, cruised to an easy win, Kelly commented: "Alas."

The victory party would have to focus on the 60-seat gain Fox projected for Republicans in the House – an enormous win, though not at the upper end of the forecasts. Fox commentator Karl Rove, pleading for "perspective," said it still qualified as a "blowout evening." To be fair and balanced, Fox brought in a nominal Democrat, pollster Doug Schoen. "This is a complete repudiation of the Democratic Party," he proclaimed.
We wrote on Wednesday "Milbank's understandable critique of Fox News' tone is diminished by his own lack of fairness in his reporting; it seems like he'd have the reader believe that Democratic pollster Doug Schoen was the lone left-of-center voice on the channel," before listing the panoply of other left-of-center personalities. Kelly reiterated the proper context of her "alas" comment which, in fairness, was said in a different manner than the way it was presented by Milbank.
There is also the predictable (and oddly promotional?) shots at progressive media watchdog site Media Matters, but perhaps the oddest moment was the decision by O'Reilly and producers to put up an image of Milbank's Washington Post editor Fred Hiatt, then following with a eerily threatening comment "Fred, have a nice weekend," reaffirming O'Reilly's trope as the bullying beat cop. Watch the segment from Fox News below.
Have a tip we should know? tips@mediaite.com