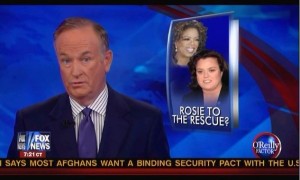 Wednesday night, Bill O'Reilly focused his attention on Oprah Winfrey's struggling OWN network and on its hope that actress, TV personality and prolific blogger Rosie O'Donnell might be able to lend it a dose of star power and a healthy boost in viewership with The Rosie Show. He brought on marketing strategist Laura Ries and New York Post reporter Sean Daly to discuss.
Ries agreed with O'Reilly assessment that O'Donnell is a risky choice for the network given she has "staked a claim in far-left territory" throughout her career, but that it's a risk the flagging network has to take in the hopes of injecting some sort of interest into its programming. Daly weighed in, opining that the network would have to keep "a tight rein" on the actress, which was met with more than a smidge of skepticism by O'Reilly.
The panel also expressed doubt about whether O'Donnell would be able to recapture the viewers and success she enjoyed back in the 90s as host of her very popular daytime talk show. You know, when she was more "Tom Cruise is a cutie patootie" and less "9/11 was an inside job." And then there's the issue of whether advertisers are open to being associated with someone as polarizing and potentially controversial as O'Donnell. O'Reilly noted that "if she gets eyeballs, she gets advertisers," noting that controversy could very well work in O'Donnell's favor as long as it translates into viewers. And, obviously, he's pretty shrewd when it comes to analyzing media trends:
But remember though, she did well in The View in the sense that she increased viewership there, but part of it was sensationalism. And then NBC tried to hire her — Remember this? — and they gave her a variety show which lasts, what, twelve minutes? I don't even think it got through the hour. She brought on these communist jugglers and that was it, they had to pull the plug. That was a joke; they didn't really have communist jugglers.

…But they might have.
Please, please invite Bill onto your show, Rosie! And, heck, a communist juggler or two.
(Also: please don't miss O'Reilly clever self-promotion when he lists examples of his show: "No Rizzoli and Isles, no Jersey Shore. No O'Reilly Factor.")
Have a look at the segment, via Fox News:
Have a tip we should know? tips@mediaite.com