Bill O'Reilly And Panel Celebrate Chick-fil-A Appreciation Day As Victory For Free Speech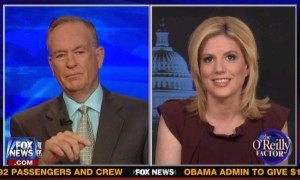 Bill O'Reilly reflected on yesterday's national Chick-fil-A Appreciation Day, and called the incredible turnout (which brought the chain record profits) a "big victory for traditional forces in America." He said that it's important to have serious debates about issues like gay marriage, but people need to be able to express those views without others trying to shut them down.
RELATED: Mike Huckabee Takes A Victory Lap For 'Chick-Fil-A Appreciation Day' On Fox & Friends
O'Reilly said that the politicians pledging to keep Chick-fil-A out of their cities are acting "un-American" and engaging in "fascism," noting that Democrats have not been so willing to speak out against anti-gay African-American pastors. He also argued that people are not bigots just for believing in "traditional marriage."
Jeanine Pirro affirmed that marriage is not protected under the constitutional right to privacy, but said that the issue is not about marriage, but about people using it as "an excuse to come after the religious right." Pirro made the point that the Democrats are holding their national convention in North Carolina, a state that recently reaffirmed its opposition to gay marriage and civil unions, and asked why the party isn't boycotting the state. Kirsten Powers added that President Obama was not in favor of gay marriage until a few months ago, though O'Reilly countered that unlike Dan Cathy, Obama has never given money to anti-gay groups, nor has he said anything close to demagoguing gay people.
However, while O'Reilly said that yesterday's big turnout at Chick-fil-A's all over the country was a victory for "traditional forces," Powers said it was really a victory for free speech. O'Reilly brought up the video of someone heckling a Chick-fil-A employee for the company's policy to make the point that while he was acting viral, it was his right to say it. Powers agreed and added that in the video, "he's the one that sounds kind of hateful."
Watch the video below, courtesy of Fox News:
—–
Follow Josh Feldman on Twitter: @feldmaniac
Have a tip we should know? tips@mediaite.com
Josh Feldman - Senior Editor