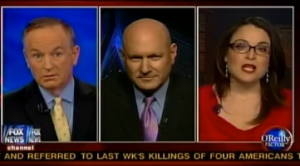 With Charlie Sheen still the talk of news shows and covered extensively everywhere, Bill O'Reilly wondered "should the media just leave the guy alone?" Doctors Keith Ablow and Karen Ruskin disagreed whether the media should continue to interview Sheen and although O'Reilly was conflicted, he concluded since Sheen always gets ratings, nothing would be able to stop the media from finding a way to get to him.
Ablow was of the opinion that the media shouldn't judge who is incompetent, and instead, since the public is fascinated by Sheen, any effort to shed light on information related to him is exactly what the media should be doing. Ruskin, on the other hand, argued that Sheen needs help and that everyone in the media is "treating Charlie Sheen like a monkey in a zoo" and it's unacceptable.
O'Reilly realized that if Sheen showed up in his studio he would definitely want to interview him, but admitted he would feel uneasy about it since O'Reilly felt Sheen's delusional state would make it like interviewing someone with one hand tied behind their back. Yet if he did conduct the interview, O'Reilly promised to "give him a much harder time than the other interviewers did, I basically say to him, look it's not about you, it's about your kids, it about other people." When the media circus around Sheen will end is unclear, yet now that Sheen has joined Twitter, maybe soon the bi-winning star will realize he no longer needs to be appear on television everyday to communicate with his fans.
Watch the clip from Fox News below:

Have a tip we should know? tips@mediaite.com