O'Reilly Apologizes To Shirley Sherrod, Then Calls Her "Divisive" And A "Liberal Activist"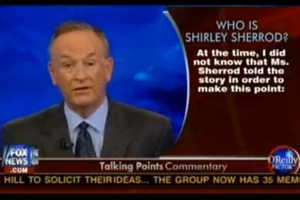 Earlier today, our own Colby Hall wondered whether Bill O'Reilly would apologize for calling for former (possibly future?) USDA employee Shirley Sherrod's resignation based on an excerpt of a speech posted on BigGovernment.com. Tonight, O'Reilly acknowledged that he spoke prematurely, but still attacked her for being a "long-time liberal activist" and using a "divisive" phrase like "one of their kind."
O'Reilly was forthcoming with the fact that he had taken her statements out of context. "What I did not know at the time was that Sherrod told the story to make" the point that she had learned from her mistakes, he explained, playing another clip from her speech in which she explains how her perspective on race has evolved. "I owe Ms. Sherrod an apology for not doing my homework."
O'Reilly's segment on Monday was one many detractors of Fox News pointed to as evidence that the network was pushing the story, despite airing during the channel's designated opinion hours and the network's news division abstaining from covering the story at all before Sherrod's resignation, and Sherrod's case didn't appear on the channel before O'Reilly's segment despite the fact that the story broke on Big Government in the morning.
But that's about where O'Reilly stops being nice to her. He then continued to attack her for describing the white lawyer she sent the white farmer to as "one of his own," calling that kind of language divisive. He also pointed out that she is a "long-time liberal activist who actually sued the Department of Agriculture and won $300,000" and that, "even knowing that, the Obama administration hired her in 2009." He concludes that, despite the fact that she was treated unfairly, there are other elements to her story that make her ineligible to serve in the government. "Should she be doing the people's business with that resume?" he concluded. "I don't think so."
O'Reilly also took the opportunity to take on the "despicable Media Matters," argue a point similar to CNN's Campbell Brown's last night that the NAACP's "own incompetence snookered them," and even got to take a shot at Rachel Maddow, playing a clip of Maddow explaining that "Fox does what Fox does." O'Reilly completed the sentence for her: "…which is kick your network's butt every night." Which, if ratings were the issue at hand and the sole reason for a cable news organization's existence, then, yes, this is empirically true.
So now the list of people that have defended Shirley Sherrod or apologized had they initially attacked her include NAACP President Ben Jealous, Glenn Beck, Rachel Maddow, Bill O'Reilly, and the entire White House, among others– on the one hand, honorable of them to admit their mistakes, on the other, everyone is doing it. And O'Reilly's apology could well be described as back-handed, as he defended her in one area only to open up several new battle fronts that have little to do with the tape. Still, he counts.
Noticeably absent from the list of people ? Andrew Breitbart, the man who first published the video that got Sherrod fired. In his public appearances so far, Breitbart has tried to make the case that the story isn't about Sherrod, but about the NAACP's knee-jerk reaction to the video. So far, he hasn't been pushed on the fact that he was the one that released the video to begin with, and there are no signs on Big Government– currently touting new video of ACORN members assaulting a bank– that Breitbart is going to address the fact that he started this mess.
Video of O'Reilly's apology/attack below:

Have a tip we should know? tips@mediaite.com