Bill O'Reilly Asks Dr. Marc Lamont Hill: Where Are Jackson And Sharpton On Herman Cain?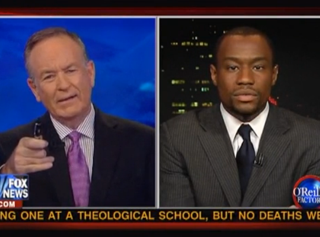 As the Herman Cain potential sexual harassment scandal continues to unfold, Bill O'Reilly has begun to question where civil rights leaders are standing on this issue, particularly Jesse Jackson and Al Sharpton. On his program last night, O'Reilly inquired as to was keeping them quiet, particularly since Cain had himself noted he believed race was a factor in the scrutiny. In a passionate but friendly exchange, O'Reilly challenged Dr. Marc Lamont Hill to give a non-partisan reason for their silence, to which he replied in sum that they had learned their lessons about jumping to defend people without all the facts.
RELATED: TheGrio Columnist On MSNBC: If Herman Cain Could Become The 'Color Of Water' He Would Do It
"There's nothing to jump into the game for," Hill replied when asked why Sharpton and Jackson had not done so, as "their interest is justice, just like my interest is justice." "I don't think anything unjust is happening to Herman Cain," he argued, noting that, as a presidential candidate, "he's getting exactly what he deserves." O'Reilly asked him to clarify, as none of the sexual harassment accusations were specific, to which Hill noted he didn't believe the presumption of guilt was fair, but that Cain wasn't receiving that so much as the standard media scrutiny that comes with running for President. Here the two difference. "We have a presumption of innocence in this country, and that is not in play right now," O'Reilly argued, noting that the presumption of innocence is a cultural courtesy aside from its legal function after Hill argued that Cain wasn't being convicted of a crime.
RELATED: Jonathan Capehart: White Republicans Afraid To Criticize Cain Because He's Black
O'Reilly insisted that this was a political issue, however, and not a race one. "If this were a liberal politician, you can't sit there and tell me Jesse Jackson and Al Sharpton wouldn't be screaming bloody murder," O'Reilly argued. As they were civil rights activists and this isn't a civil rights issue, however, Hill contended they had no place in the matter. Neither did they then, O'Reilly replied, with Tawana Brawley or OJ Simpson. "What you're saying is that they've been wrong two times," Hill replied, "now they should be wrong again with Herman Cain." O'Reilly replied simply, "that's rich!"
O'Reilly gave Hill the last word after expressing his very strong disbelief in the idea that Sharpton and Jackson were acting out of a "lesson learned" from past experiences, a point Hill reiterated, adding that the media scrutiny was just for a Presidential candidate.
The debate via Fox News below:

Have a tip we should know? tips@mediaite.com