Bill O'Reilly Asks If The United States Was 'A Better Country' In The 1950s, Clashes With Colmes And Crowley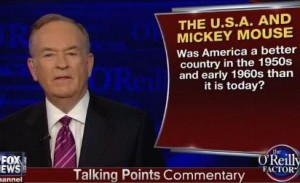 Bill O'Reilly opened his show tonight by connecting the death of actress and original Mouseketeer Annette Funicello to how America was a more respectful and wholesome society back in the 1950s. O'Reilly made it clear he's not qualitatively labeling the 50s as "better," but did charge that back then, people were more self-reliant and held more respect for public institutions. O'Reilly got in brief clashes with both of his panelists: Alan Colmes, for disagreeing with his main thesis, and Monica Crowley, for her claim that LBJ's Great Society Program was wrongheaded because it brought about the "massive welfare state."
RELATED: Charles Krauthammer Throws Cold Water On Bill O'Reilly's Nostalgia For An Era Of Objective News Reporting
O'Reilly asked right at the top, "Were we… a better country, a better people than we are today?" He admitted that on the civil rights question, things are definitely better today, but unemployment and poverty were not as bad back then. O'Reilly cited statistics on average income and babies born out of wedlock, while saying that culturally speaking, "premarital sex and explicit behavior… was kept kind of quiet" in the media.
O'Reilly contended that people were more respectful back then, and when the country was unified after World War II, it "made it easier for society to function." Colmes pushed back on O'Reilly bringing up statistics about babies being born out of wedlock, arguing that people were not very open about those kind of things back then and numbers may have been higher. O'Reilly interrupted Colmes and told him to "stop the BS."
Crowley compared the 50s to the mid-to-late 60s, when the Great Society program brought about a "massive welfare state" and created a "culture of dependency." O'Reilly actually pushed back on this, arguing that after minority groups were finally given civil rights by the government, the government then had a responsibility to develop social programs for minority gropus.
On O'Reilly's point about self-reliance, Colmes shot back that O'Reilly was unfairly comparing the economic boom of the post-World War II era to the current state of the American economy.
Watch the video below, courtesy of Fox News:
—–
Follow Josh Feldman on Twitter: @feldmaniac
Have a tip we should know? tips@mediaite.com
Josh Feldman - Senior Editor