Bill O'Reilly Asks Panelists: How Concerned Should Parents Be About Kids Using Facebook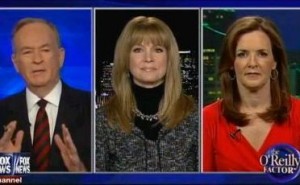 What's the deal with all the kids on the Facebook these days? That question was on Bill O'Reilly's mind tonight in a segment highlighting a study on the psychological effects of Facebook on young people. The study found one-third of people feel worse about themselves after going on Facebook, specifically citing anger and loneliness as results. O'Reilly brought on guests to help explain to him exactly what are the positives and negatives of Facebook, since he personally doesn't understand the point.
RELATED: O'Reilly Uses Te'o Scandal To Go After The Internet: 'Do Not Allow The Machines To Take Control Of Your Life'
O'Reilly explained that he has long been "concerned about the impact of the internet" on young people, and admitted that he's coming from a place of "total ignorance" when it comes to Facebook. He asked his guests if Facebook is really a giant negativity machine. Psychologist Bonny Forrest compared it to "high school on steroids," bringing up other studies citing the same statistics about user envy and feelings of loneliness. She said this is particularly concerning among young people, who get into a big "competitive spirit" and want to put on their best face for their online friends.
Human behavior expert Wendy Walsh had a decidedly different take on Facebook. She said that when young people post photos and statuses about themselves, "their mood is elevated, their self-esteem goes up." She defended Facebook as a way to develop and enhance friendships. O'Reilly was skeptical that a website could possibly empower anyone, closing the segment by quipping, "I don't want my kids to be empowered, I want them to do what they're told."
Watch the video below, courtesy of Fox News:
—–
Follow Josh Feldman on Twitter: @feldmaniac
Have a tip we should know? tips@mediaite.com
Josh Feldman - Senior Editor