Bill O'Reilly Asks Trayvon Martin's Mother: 'Was I Wrong To' Ask Al Sharpton To Apologize?
Bill O'Reilly To Trayvon's Mother: 'Was I Wrong To' Ask Sharpton To Apologize?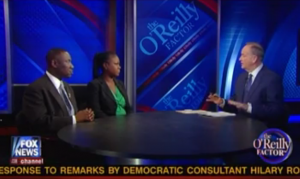 On his show Thursday night, Bill O'Reilly sat down with Sybrina Fulton, Trayvon Martin's other, and the family's attorney, Benjamin Crump. Right off the bat, O'Reilly reiterated his message to "let the system work" and asked Fulton whether Al Sharpton (among others who had been advocating for George Zimmerman's arrest) should apologize.
"We all want justice in the case," O'Reilly said, noting that he's been calling for calm. Juxtaposing that with those like Al Sharpton, he asked whether it's wrong to say Sharpton should apologize. Fulton said Sharpton "also promotes peace," and added that they are "not supporting any violence." O'Reilly chimed in that they've been "magnificent" — but again pressed that other "have basically whipped up emotion."
Then he again asked whether Sharpton should apologize. "I don't know everything that's behind it," Fulton replied. She further said she hasn't been watching that much news and TV coverage, so she couldn't add any additional comment. Crump said O'Reilly and Sharpton should discuss that between themselves, but also said that without the rallying and outcry, Zimmerman would not have been arrested.
O'Reilly then asked Fulton, if Zimmerman is given a fair trial and found not guilty due to the "quirky" Stand Your Ground law, would she be able to say it's fair? "It's possible," she said. "I believe in the judicial system, and I believe he can get a fair trial."
Crump thanked O'Reilly and others who have been telling everyone to stay calm, and emphasized that this "should be a racial issue"; it's about justice.
Take a look, via Fox News:

Have a tip we should know? [email protected]