Bill O'Reilly Asks Whether Family Guy's Emmy Nod Is An Attack On Sarah Palin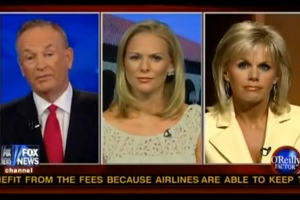 A few months back, the animated show Family Guy fell onto the political radar when it featured a character with Down Syndrome whose mother was "the former governor of Alaska." Now that episode's soundtrack is up for an Emmy award. Bill O'Reilly asked guests Margaret Hoover and Gretchen Carlson to speculate on whether the motive for the nod was political, as an attack on Sarah Palin.
The program itself did not get the nomination, according to O'Reilly's report, but, rather, the song that plays at the beginning of the episode, which has lyrics about Down Syndrome. After playing a refresher clip of the Family Guy episode for those who had forgotten, O'Reilly asks Hoover and Carlson: "Are the Emmys making a political statement of support for Family Guy's alleged attack on Palin by nominating the soundtrack to that particular episode for an award?"
Hoover sees a serious problem with the message it sends about special needs people in American society, and called it "rewarding people who are making special needs children the brunt of our jokes." Even if the episode itself wasn't nominated for content, the lyrical content of the theme song was enough to be seen as an endorsement of this type of humor.
Unlike her colleague, Carlson didn't analyze the potential general messages the Emmy organization was sending out. She took the political route, and in no unambiguous terms called the move "a total attack on Sarah Palin, end of story," by the academy that hands out nominations. She said that the reason Family Guy did not get what she would deem to be an appropriate reprimand, why they chose to air the story, and, later, why the powers-that-be who give Emmy nominees handed one to Family Guy was because Sarah Palin had a child with special needs and "Hollywood hates Sarah Palin."
Video below:

Have a tip we should know? tips@mediaite.com