Bill O'Reilly Attempts To Comprehend Racial Undertones In Controversial Pepsi Ad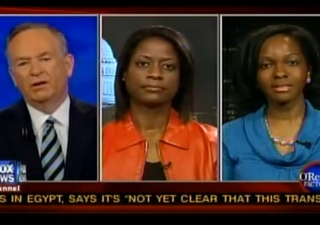 This year's Super Bowl ads appear to have packed a particularly potent outrage punch. After the news cycle propagated the distaste against the website Groupon for making light of the political situation in Tibet, the response of Texas Democratic Rep. Sheila Jackson Lee to a Pepsi commercial starring a black couple has put the ad in the spotlight. Tonight, Bill O'Reilly welcomed a panel to help him comprehend just what about the depiction of the jealous couple had allegedly nasty racial overtones.
The ad, called out for its racism by both Rep. Jackson Lee and, in a far more convoluted argument potentially even more offensive than the ad itself, Rush Limbaugh, depicts a black couple fighting over the boyfriend's wandering eyes, resulting in personal injury for the white woman he was caught admiring. Rep. Jackson Lee noted with outrage on the House floor in response to the ad that, especially in light of Black History Month, she found the crude stereotypes in the ad "demeaning," "ridiculous," and all-around repulsive.
O'Reilly initially conceded that something about the violence between the couple could certainly offend, but was out to find whether the race element merited being considered "valid beef." To him, he told guests Deneen Borelli and Dr. Imani Perry, "the jealousy crosses all races," and that the couple was black should not have had an impact on the reaction to the ad. Borelli agreed, noting that Super Bowl ads were "traditionally edgy" and that, more concerning than the ad was the fact that members of Congress were arguing over its content. "The voters did not elect [Rep. Jackson Lee] to be monitoring commercials," she quipped.
Dr. Perry was far more skeptical of the impact of the ad, arguing that it "draws on old stereotypes of African American women as…battle-axes," while displaying the man as "lecherous" towards the "white female jogger, who is a sex object." O'Reilly continued to challenge Perry on this point, arguing, in essence, that the people in the ad were ultimately Americans, such that the race element should not have become an issue, though Perry refuses to concede on this argument.
Tonight's debate via Fox News below:

Have a tip we should know? tips@mediaite.com