Bill O'Reilly Attributes Romney's 13-Point Lead Among Independents In Fox News Poll To 'Gas Prices'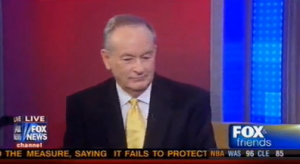 The O'Reilly Factor host Bill O'Reilly stopped by Fox & Friends on Thursday to discuss the political landscape, the U.S. Post Office bailout and his book Killing Lincoln. O'Reilly was asked to weigh in on the most recent Fox News poll, which showed the presidential race at a dead heat. He said Independent voters "vote on emotion" and are leaving the President because he has no solution to rising gasoline prices.
RELATED: Bill O'Reilly Re-Signs Multi-Year Deal With Fox News
Co-Host Gretchen Carlson first asked O'Reilly to weigh in on the latest Fox News poll of registered voters, taken from April 22 to 24, which showed former Massachusetts Gov. Mitt Romney and President Barack Obama tied with 46 percent each.
"The latest one coming out now, among independents, it looks like Mitt Romney has a commanding lead; 46 to 33 percent," said Carlson. "What do you make of that?"
"Gas prices," O'Reilly responded immediately. "That's all gas prices right there." He said that the President doesn't appear to Independents to have any solution to the high gas prices and since "they vote on emotion" they're moving away from him.
O'Reilly went on to endorse anti-speculation proposals that the President has intimated in recent weeks that he is prepared to pursue. "They could do that, but he hasn't done it so far," said O'Reilly.
O'Reilly went on to say that the race between Romney and Obama will become much starker as the weeks elapse and the PAC spending begins to materialize. O'Reilly said that Romney will channel President Ronald Reagan as much as he possibly can and emulate his successful 1980 campaign.
"But he's being urged not to make it personal," said co-host Brian Kilmeade.
"But he doesn't have to – the PACs will do it," said O'Reilly. "They'll get their little digs in, but they're not going to go in with a knife because they have all these giant PACs that are going to just rip them up."
Co-host Steve Doocy brought up the bailout of the U.S. Post Office for $11 billion. O'Reilly said that was a minimal amount of money – he said the problem the post office had and has is email.
"They did not anticipate how email was going to impact them," said O'Reilly. "And that's what the federal government does – they don't think. They're so busy being in the hot tubs in Vegas, which takes a lot of energy. Have you been in the hot tub?"
"You're hot, you're sweaty," said Doocy.
"It takes a lot out of you," said O'Reilly. "That they don't think ahead."
Carlson took it back to a serious level, saying that the USPS had committed to a pension burden that they cannot meet and that's why they're going bankrupt. "You gotta give them the 11 billion," O'Reilly said.
RELATED: Bill O'Reilly's Book On Lincoln Being Made Into Documentary By Directors Of Alien, Top Gun
Later, O'Reilly shared that he'd given the President a copy of his book, Killing Lincoln, as a thank you for having shown him Lincoln's original Gettysburg Address.
Have a look, via Fox News:
Have a tip we should know? [email protected]