Bill O'Reilly Blows Up At Juan Williams Over SCOTUS DOMA Ruling: States Rights Excuse Is 'B.S.!'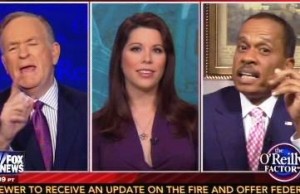 Bill O'Reilly returned to The Factor after a one-week absence, and immediately tackled one of the biggest news stories of the past week: the Supreme Court rulings on the Defense of Marriage Act and California's Proposition 8. O'Reilly declared that the decisions have shown the Supreme Court has "morphed into a political organization," and instead of making rulings based in the law, the justices are finding "loopholes" to exploit. He shouted at Juan Williams that it's "B.S." for the Supreme Court to say states should decide gay marriage laws in the DOMA case and then turn down the case of Californians who decided to outlaw gay marriage in their state.
RELATED: Krauthammer On Supreme Court's DOMA Ruling: 'Nationalizing Gay Marriage' Is Now 'Inevitable'
O'Reilly claimed that the Supreme Court, in both the Obamacare and gay marriage cases, were deciding "along political lines, rather than constitutional principles." Williams agreed that the Supreme Court has become more political under John Roberts, but argued that their DOMA decision was based in the constitution. O'Reilly looked amazed and asked why, if that's the case, the law wasn't challenged in the 90s after it passed in Congress.
Mary Katharine Ham argued that instead of taking sides on big cases, the justices try to "thread the needle" in its final decision." O'Reilly charged that Roberts' decision in the Obamacare case that the mandate was really a tax was a huge loophole. Williams agreed, but shot back that Roberts simply made a decision in the "political best interests of the court." This set off O'Reilly, who shouted, "That's not his job! That's not his job, Juan!"
When Williams continued to explain how the DOMA ruling will now allow gay and lesbian married couples to get more benefits, this angered O'Reilly again. He declared that now any type of marriage in the country, even a polygamist one, can get these same benefits without question. And the fact that the Supreme Court defended states' rights to decide their own marriage laws but did not uphold it when California did it led O'Reilly to declare their whole reasoning "B.S.!"
Watch the video below, courtesy of Fox News:
—–
Follow Josh Feldman on Twitter: @feldmaniac
Have a tip we should know? tips@mediaite.com
Josh Feldman - Senior Editor