Bill O'Reilly Challenges Obama Mentor Over His 'Understanding Obama' Harvard Class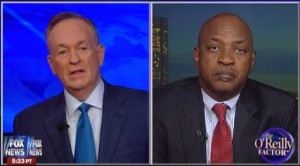 If there's one thing that gets Bill O'Reilly fired up, it's when the college elites try to indoctrinate students with their liberal agendas. And that is clearly the aim of a course being offered by Harvard Professor Charles Ogletree called "Understanding Obama." Ogletree, who personally admires President Obama, defended it as a good insight for students into understanding his character.
RELATED: Obama Mentor To Teach 'Understanding Obama' Course At Harvard Law School
Ogletree told O'Reilly that he taught this class during the 2008 presidential election, and he's just revisiting the topic now. When O'Reilly referred to it as a course, Ogletree clarified that it is a reading group that people can voluntarily take if they want to learn more about just who Obama is. He said that the president is a "multi-faceted guy" with personal successes and failures just like everyone else.
O'Reilly called Ogletree an "admirer of the president," to which Ogletree clarified that he considers himself more than a mere admirer. O'Reilly said that while he has no problem with someone like Ogletree talking about Obama's character from his point of view, it feels like it would be too biased. Ogletree acknowledged that he's received e-mails from people addressing this very issue, and he pointed to an example of his willingness to criticize Obama over the Henry Louis Gates issue.
O'Reilly ended the interview by asking to be a guest lecturer for the class one day. Ogletree said he would love to have O'Reilly come in and speak one day.
Watch the video below, courtesy of Fox News:
Have a tip we should know? tips@mediaite.com
Josh Feldman - Senior Editor