Bill O'Reilly Clashes With Atheist Over Obama Swearing In On Bible At Inauguration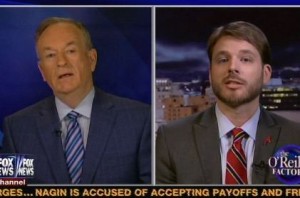 When President Obama is sworn in for a second term on Monday, he will be placing his hand on the Bible, but an atheist group is attempting to get Obama to not use the Bible to swear in. Bill O'Reilly took on a representative of the Freedom From Religion Foundation tonight over whether it is appropriate or even Constitutional for a politician to be sworn into office on a religious document.
RELATED: Bill O'Reilly Confronts Atheist Leader And His 'Merry Band Of Fascists' Over The War On Christmas™
Andrew Seidel told O'Reilly that nowhere in the Constitution is there any kind of reference to "so help me God." O'Reilly explained that George Washington invoked God in his inaugural address because he, like the other Founders, believed there was a place for religion in the political sphere. Seidel pushed back, arguing that God is never invoked in the Constitution. O'Reilly scolded him, saying that the Declaration of Independence invokes God and it was the document that set the stakes for the Constitution.
On a more contemporary tone, O'Reilly asked Seidel how he could possibly think people would be okay with his proposal, given that an overwhelming majority of Americans are religious. Seidel argued that the cultural climate is changing, citing statistics that roughly one-fifth of the people in the United States are non-religious. O'Reilly suggested even many non-religious people may not care about Obma using a Bible.
Seidel made it clear that the Bill of Rights was designed to protect from tyranny of the majority, saying that religion gets morality from humanity and the Bible isn't a good pinnacle of morality anyway. O'Reilly ended by quipping that Seidel can debate Washington and Dr. King in heaven.
Watch the video below, courtesy of Fox News:
—–
Follow Josh Feldman on Twitter: @feldmaniac
Have a tip we should know? tips@mediaite.com
Josh Feldman - Senior Editor