Bill O'Reilly Confronts Atheist Leader And His 'Merry Band Of Fascists' Over The War On Christmas™
O'Reilly Confronts Atheist And His 'Merry Band Of Fascists' Over The War On Christmas™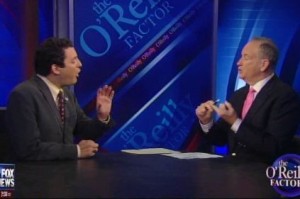 Good news, everyone! The War on Christmas™ is back! Bill O'Reilly has gotten the ball rolling early this season, and on his show tonight, O'Reilly faced off with David Silverman, the president of American Atheists, over evil secularists and such trying to stab an icicle in the beating heart of Old Saint Nick. It started pleasantly enough, with O'Reilly telling Silverman he is dead wrong, but as the O'Reilly Christmas kettle started to boil, he went into a whole tirade over Silverman and his "merry band of fascists" trying to destroy Christmas.
RELATED: Bill O'Reilly Does Epic Segment On The 'War On Christmas™'
O'Reilly made it clear that he has nothing personal against Silverman, but he's bothered by atheists trying to "mess around" with his proud Christmas traditions. Silverman argued that his agenda is simply to make sure the government does not promote one religion over another. O'Reilly's counterpoint? "Christianity is not a religion, it is a philosophy."
I'm going to pause here to give you time to Google or Bing "Christianity" so you can confirm for yourselves that it is a religion.
Silverman was taken aback by O'Reilly's strong declaration, which O'Reilly defended by distinguishing the religion of Roman Catholicism with the philosophy of Christianity. (Yeah, still doesn't work.) O'Reilly said the constitution guarantees that the government cannot promote a religion, to which Silverman pointed out that the first amendment only applies to Congress passing laws regarding religion.
O'Reilly said Christianity is a philosophy, therefore the government is not unconstitutionally promoting one religion. And, all things being equal, O'Reilly said he'd be okay with atheist signs being placed in government offices. Silverman tried to call O'Reilly out on that, which led O'Reilly to lash out at Silverman and scold him for trying to tell him what he thinks.
O'Reilly insisted that the "Christmas tree is a secular symbol." Silverman politely suggested that the CHRIST in CHRISTmas tree might beg to differ on that one. O'Reilly told Silverman that he was coming across as "unreasonable" and "frightening," and "your view is insane." When Silverman tried to argue against Christianity being a federally mandated holiday, O'Reilly lashed out once again by saying that Silverman leads a "merry band of fascists."
Silverman pushed back and insisted he is a patriot, but O'Reilly continued to call Silverman a fascist for his viewpoint.
Watch the video below, courtesy of Fox News:
Have a tip we should know? tips@mediaite.com
Josh Feldman - Senior Editor