Bill O'Reilly Confronts Professor Who Accused Him Of Engaging In 'Right-Wing Buffoonery'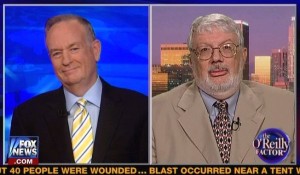 Bill O'Reilly invited Occidental College professor Peter Dreier on his show tonight to confront the professor for writing in The Huffington Post that O'Reilly frequently engages in "right-wing buffoonery." Dreier accused O'Reilly of criticizing Social Security, while O'Reilly grilled Dreier on the people he chose to highlight in his book on the 100 most influential figures in the history of social justice.
RELATED: Bill O'Reilly And Panel Take On Liberal Media Bias And Young Voter Support Of Obama
O'Reilly pressed Dreier for examples of times when he displayed "right-wing buffoonery" on his show. Dreier said that O'Reilly has heavily criticized Social Security, which he pointed out used to be considered a socialist idea. O'Reilly denied he ever did, saying that Dreier was just "perpetuating propaganda" and concluded that Dreier could not produce a single example to back up his charge.
O'Reilly then turned to Dreier's book, The 100 Greatest Americans of the 20th Century: A Social Justice Hall of Fame. O'Reilly went down the list of people Dreier included in his book, among them Malcolm X, Michael Moore, and Bruce Springsteen. O'Reilly asked Dreier how he could have overlooked, for example, President Eisenhower. Dreier explained that he admired Eisenhower, and may consider putting him in the 2nd edition of his book, but said he never really spoke out until the end of his eight years in office.
O'Reilly concluded the interview by asking Dreier why the world of academia leans left. Dreier said that what is considered to be liberal today may end up being a conservative point of view 50 years from now, and once again brought up how Social Security used to be considered a controversial issue.
Watch the video below, courtesy of Fox News:
—–
Follow Josh Feldman on Twitter: @feldmaniac
Have a tip we should know? tips@mediaite.com
Josh Feldman - Senior Editor