Bill O'Reilly Confronts Ted Koppel Over Criticisms Of 'Ideological' Fox News Coverage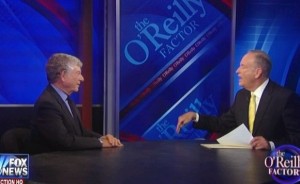 Bill O'Reilly brought Ted Koppel on his show tonight for an informative discussion on cable news' influence on journalism. Or it would have been, had O'Reilly not tried to make much of the interview about himself. Most of the interview consisted of O'Reilly insisting to Koppel that he is above the cable news chatter he bemoans and saying that he and Fox News are not guilty of what Koppel is accusing them of.
RELATED: Ted Koppel On 'Wildly Opinionated' Fox, MSNBC: 'Our Times Require A Little More Serious Objectivity'
O'Reilly made it clear right at the top that he objects to Koppel lumping him in with the rest of the cable news chatter. He asked Koppel to tell him precisely what he objects to about Fox News. Koppel said he doesn't have a specific "beef" with O'Reilly, though he did admit the Fox host can sometimes be "a little too intolerant of allowing people to complete an answer." Koppel said he doesn't care for the "rude" way O'Reilly acts to his guests sometimes. O'Reilly argued that he only does it when guests bloviate and lie.
O'Reilly told Koppel that he was way off in comparing Fox News to MSNBC, saying that the network does more hard news than its liberal rival. He said that at least Fox News has some straight reporting compared to every single MSNBC show trying to push a Democratic agenda.
O'Reilly noted that most of the big names in journalism, including Dan Rather and Tom Brokaw, are "left-wing guys." Koppel countered by saying that when Cronkite was on the air decades ago, people wouldn't have known his political beliefs. O'Reilly dismissed this and said that he still made decisions about what to cover on the show.
However, O'Reilly did credit Koppel for being one of the more fair-minded people in journalism. Koppel joked that O'Reilly complimenting him might be more "damaging and devastating" than any criticism. Koppel summed up his main problem with networks like Fox and MSNBC.
"Ideological coverage of the news, be it of the right or be it of the left, has created a political reality in this country which is bad for America. I think it's made it difficult, if not impossible, for decent men and women in Congress, on Capitol Hill, to reach across the aisle and find compromise."
O'Reilly found it unbelievable that Koppel would be blaming him and Fox News for the "deterioration of Congress." He also suggested that a product as successful as Fox could not get away with the kind of blatant dishonesty Koppel was suggesting exists on the network.
When Koppel said that journalism has fallen by the wayside on partisan news networks, O'Reilly answered, "I still think that I'm doing something noble."
Watch the video below, courtesy of Fox News:
—–
Follow Josh Feldman on Twitter: @feldmaniac
Have a tip we should know? tips@mediaite.com
Josh Feldman - Senior Editor