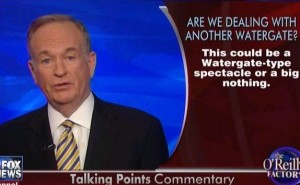 Bill O'Reilly opened his show tonight with a very provocative question: is the Obama administration's cover-up of the 9/11 attacks in Benghazi President Obama's very own Watergate? O'Reilly suggested that the president's refusal to speak about the circumstances surrounding the attacks may indicate a cover-up that may be bigger than Watergate ever was, criticizing the media for not being more aggressive in questioning the administration on the issue.
RELATED: Jake Tapper Accuses Rush Limbaugh Of Misrepresenting What He's Said About Media Treatment Of Benghazi
O'Reilly continued to criticize the Obama administration for not being able to explain exactly what happened in Benghazi and the press for not making it the major story he believes it should be. O'Reilly predicted two ways the investigations could ensue: a Watergate-like spectacle exposing corruption at the highest levels of government, or a big pile of nothing.
But O'Reilly seemed to lean on the former as the likelier scenario, especially considering Obama's continued refusal to make any public comment on the situation. O'Reilly wondered why a simple answer to "when were you told about what happened in Benghazi?" could possibly impede an official investigation.
O'Reilly played video of John McCain scolding a reporter for asking whether the Petraeus affair might be a bigger story than Benghazi. He credited McCain and his colleagues for holding hearings in order to get to the bottom of what happened. O'Reilly then explained the possible Watergate connection.
"Richard Nixon denied he had anything to do with a low-level political break-in. If the press had not been aggressive, Nixon would have gotten away with it. And certainly the break-in at the Watergate hotel was not nearly as important as failing to define a terrorist attack that killed four Americans. President Obama… should have given us the facts weeks ago. He chose not to."
Watch the video below, courtesy of Fox News:
—–
Follow Josh Feldman on Twitter: @feldmaniac
Have a tip we should know? tips@mediaite.com
Josh Feldman - Senior Editor