Judge Andrew Napolitano Debates A Fiery Bill O'Reilly On Entrapment In Oregon Bomber Case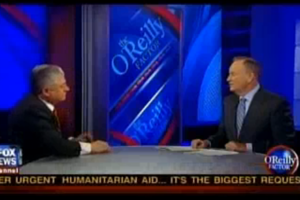 Would-be Portland, Oregon bomber Mohamed Osman Mohamud never came close to doing the harm he hoped to, thanks in large part to a government sting operation that fed him faulty explosives. Whether his intention to kill a sizable number of Americans on that day was natural within him before the government got involved, however, will be a major point of contention during trial, and Judge Andrew Napolitano believes Mohamud may have a case that it wasn't.
Taking the opening segment of tonight's O'Reilly Factor, Napolitano sparred with Bill O'Reilly over the extent to which the government could help a potential criminal execute a plan. O'Reilly praised law enforcement for finding and capturing Mohamud, and warned Napolitano to "keep this [debate] in the level of reality." Napolitano's major issue with the way the FBI arrested Mohamud was that there was a possibility that he was entrapped, in that, had the government planted the seed of the crime in his brain, his lack of a previous disposition to commit it would make his arrest illegal. "You're wrong to say it's a crime to harbor criminal intent," he explained to O'Reilly, also elaborating on the process in the court: it is the government's responsibility to "prove all elements of the crime," including predisposition to commit it.
O'Reilly didn't seem to buy the argument that there was no predisposition, when Mohamud is alleged to have said on FBI tapes that he was comfortable killing men, women, and children for his cause. That he did not commit the crime, though, was a sticking point for Judge Napolitano, who argued that "wanting to commit a crime is not the same as committing a crime," and the United States "will become East Germany if we prosecute [thoughts]." This peeved O'Reilly, who scolded Napolitano for "wandering into the land of theory, which you can do on your dopey show but not here." Evidence of a desire to cause harm to others, O'Reilly contended, was more than enough to prove beyond a reasonable doubt that the criminal was predisposed to committing the crime, citing a Supreme Court decision that said as much.
Tonight's heated debate via Fox News below:

Have a tip we should know? tips@mediaite.com