Bill O'Reilly Debates Atheist Author: Judeo-Christian Belief Is A Reality 'On Which This Country Is Founded'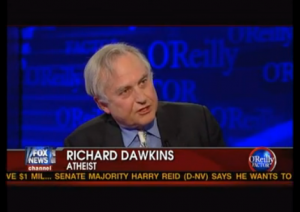 On Wednesday night's The Factor, host Bill O'Reilly spoke with atheist author Richard Dawkins about his latest work, The Magic of Reality, which is "partially aimed at children," as O'Reilly described it.
During their conversation, O'Reilly summarized the book's aim as encouraging its readers to focus on science (which the host applauded) at the expense of God and religion — an assessment with which Dawkins took issue. "No, this is a book about science," said Dawkins. "It doesn't talk about God." O'Reilly wasn't buying it. "It mocks God," he said. "I looked at it." But Dawkins insisted that the book includes no mockery of the sort.
Later on in the discussion, however, O'Reilly gleefully shouted "A-ha!" when Dawkins referred to, in this instance, Christianity as a myth on par with Aztec or Egyptian mythology and belief. O'Reilly responded by calling Judeo-Christian belief not a myth but a reality "on which our country is based" — an idea that Dawkins seemed to find entirely absurd.
O'Reilly then brought up the idea that the worst regimes in history were "atheistic," pointing to dictators like Stalin, Mao, and Pol Pot. "That has nothing to do with whether you believe in God or not," Dawkins insisted, adding that he didn't want to enter into a "shouting match" over who is "more evil." "Are we shouting?" asked a rather amused-looking O'Reilly.
"What I do think," Dawkins continued, "is that there is a logical connection between believing in God and sometimes doing evil things."
"Sometimes, absolutely," O'Reilly agreed. "You see that in the Holy War, in the Jihad."
Now, is it just us, or is O'Reilly trying to make the conversation a little "spicier" than it ended up being? In any case, Dawkins seemed to want absolutely no part in it — to something of a funny degree.
Watch the segment for yourselves, via Fox News:
Have a tip we should know? tips@mediaite.com