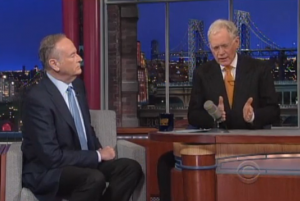 Fox News host Bill O'Reilly paid a visit to David Letterman on Monday — where the segment inevitably took a political turn. From drones to gun control, the pair discussed recent controversies and debates, with Letterman not always buying the views O'Reilly was selling.
Letterman first asked about President Obama's drone program, which has elicited a great deal of controversy recently. Some "civilian oversight" would help, O'Reilly noted, but he supports the program. Some of the outrage, he said, comes from the fact that liberals were vehemently outspoken against waterboarding, which didn't kill anyone, yet there's not quite the same reaction to drones, which are "wiping out villages."
What's good about the program, O'Reilly elaborated, is that it accomplishes the mission without putting our troops in harm's way — while also "terrorizing" al Qaeda.
"You gotta trust your government to some extent," he told Letterman. "Let them have a little bit of room. And so far, so good."
With that, they pivoted to the piece in Esquire about the man who says she shot Osama bin Laden. "It sounded legit to me," O'Reilly noted, before inciting Letterman's disbelief upon hearing he has yet to see Zero Dark Thirty.
Pointing to the bin Laden shooter's assertion that he's been left without benefits and health insurance, Letterman remarked, "I wonder how true that might be."
"Come on my show," O'Reilly invited. "Come on this show. Let everybody know. We'll check it out."
"We see the seam starting to tear a little bit in terms of confidentiality," Letterman added. Yes, O'Reilly said… because there's money to be made. But "it's a personal decision."
O'Reilly then took the pause in the conversation as an opportunity to segue into a discussion about guns, a discussion which he admitted he's rather cynical about — not believing Congress really wants to solve the problem. Here's what you do, he advised: "You federalize all gun crimes," and require guns to be registered.
Letterman agreed, but said he didn't understand the "need" for automatic weapons. Semi-automatics, O'Reilly corrected, before adding that states should be able to decide. Living by the border in Texas is different from living on Long Island, he said — an argument Letterman pressed him on, asking: How many situations is this really applicable for?
"You got a gun on you now," Letterman quipped, with O'Reilly responding, "I do not."
"Can I pat you down, Bill?"
And that was that.
Take a look, via CBS:

Have a tip we should know? tips@mediaite.com