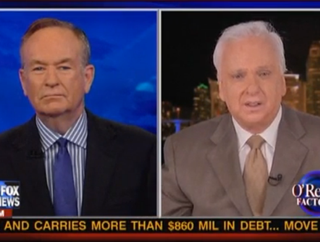 Jodi Kantor's new book The Obamas has stirred some controversy over its claims that the First Lady proved somewhat problematic in terms of her image. On The O'Reilly Factor tonight, Bernie Goldberg admitted that the story of Robert Gibbs losing his patience with the First Lady's extravagant clothing was "doesn't shock me," but upon debating further her image as a "Marie Antoinette" type, Bill O'Reilly came to her defense.
RELATED: Axelrod Confirms That Robert Gibbs Did Curse Michelle Obama
Goldberg noted that the story appeared very much believable that Gibbs was frustrated with the First Lady wearing "expensive clothes in difficult times," given that she did things like go to "a food bank wearing $550 $515 sneakers" and that "Gibbs is a guy that understand images matter." "Breach of decorum or not, this doesn't shock me," Goldberg concluded.
O'Reilly then turned to the public perception of the First Lady through images such as photoshops of Mrs. Obama as Marie Antoinette, "a historical icon of excess." Goldberg noted that there were moments where she, possibly inadvertently, fueled that image. "Michelle Obama is going to be on a Nickelodeon sitcom," Goldberg explained, where a girl mistakenly called her "your excellency" and the First Lady is said to enjoy it. O'Reilly countered that the Marie Antoinette comparisons were nonetheless unfair– "it's not justified, Marie Antoinette is villainous." Goldberg added that unfair as that particular comparison was, the claims that the source of the criticism was racism was "despicable and harmful…. if they do this over and over again, what happens when real racism shows up?"
The segment via Fox News below:

Have a tip we should know? tips@mediaite.com