Bill O'Reilly And Dennis Miller Weigh In On Ricky Gervais' Golden Globes Performance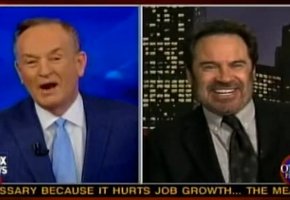 By now, just about everyone's weighed in on Ricky Gervais' controversial Golden Globes hosting job, so tonight, Bill O'Reilly and Dennis Miller decided to join the party. And both seemed to agree: by bringing in Gervais, the Globes got exactly what they were asking for.
Miller said he found much of Gervais' material funny, but that Robert Downey Jr. (of course, the target of one of Gervais' more pointed barbs) is "prison ripped," so Gervais was playing with fire in ribbing him. And speaking of ribbing, O'Reilly was all too happy to take any opportunity to tweak Miller for his starring role in 1996's Bordello of Blood. When O'Reilly wasn't having fun at the expense of Miller's film career, though, he said that from what he knows of Gervais, his performance was to be expected:
"The producers of the show, Downey was mad at [Gervais], a lot of other people were mad at him, but again, you get what you pay for – I guess this guy comes in, and…this is what he does, right?"
Miller then went off on a tangent ripping the Hollywood Foreign Press Association, and said Gervais would "probably be back next year" if the show pulled good enough ratings, and proceed to get "twice as many" viewers. We agree a Gervais encore next year would pull in huge numbers, but let's face it – he's not coming back. Miller then repeated the "you get what you pay for" mantra re: Gervais' edginess, then O'Reilly expressed concern Anne Hathaway would say something terribly offensive at the Oscars. He was joking…we think. Video of the two getting their jollies, via Fox News, below.
Have a tip we should know? tips@mediaite.com