O'Reilly Explains Confrontation With Colmes: I Was Trying To Draw Attention To Obama's 'Economic Madness'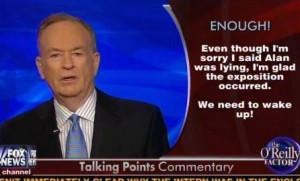 Bill O'Reilly opened his show tonight explaining his shouting match last night with Alan Colmes. O'Reilly admitted that he was probably wrong to repeatedly call Colmes a liar, but said he was glad the confrontation happened because it helped draw attention to what he argued was President Obama's "economic madness" and the fact that independents in the United States have tuned out legitimate criticisms from the right due to previous instances of over-the-top demonization.
RELATED: Stossel Bluntly Tells O'Reilly: Your Colmes Outburst Was 'Obnoxious' And 'Out Of Line'
O'Reilly said that Colmes "hemmed and hawed," though admitted he was in the wrong to call Colmes a liar. However, O'Reilly said he was glad they had the confrontation because it brought attention to what O'Reilly believes to be Obama's end-goal for America: destroying the Republican party, and if the nation collapses as a result, so be it.
O'Reilly predicted the debt could hit $20 trillion when Obama leaves office in 2017. He described the president's policies as "economic madness," explaining "that's the reason I raised my voice last night: to raise everybody's attention." He maintained that while Obama has consistently been concerned with raising taxes while not allowing any spending cuts.
However, O'Reilly acknowledged that one reason Americans are not outraged by this is because in the past few years, the right wing has demonized Obama so much over nonsense like birth certificates that when they bring up a legitimate issue like the economy, people are already numb to criticism and just tune out. O'Reilly concluded, "That's why I'm raising my voice."
Watch the video below, courtesy of Fox News:
—–
Follow Josh Feldman on Twitter: @feldmaniac
Have a tip we should know? tips@mediaite.com
Josh Feldman - Senior Editor