Bill O'Reilly Explores Controversial Comments In New Jackie Kennedy Interview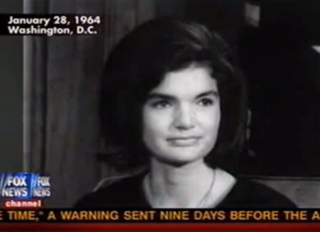 First Lady Jackie Kennedy— perhaps servicing as a thermometer on the public's demand for non-recent political news– has become the hottest media topic of the week with new interviews surfacing with Arthur Schlesinger. Among her comments therein are some strong words for Martin Luther King, Jr. and Lyndon Johnson which, given today's understanding of those men, may appear shocking. On tonight's O'Reilly Factor, Bill O'Reilly and historian Kenneth Davis discuss the context of her statements at the time.
"For those of you not familiar with Mrs. Kennedy," O'Reilly opened his segment, "she was once one of the biggest stars in the world." Given the prominence of her new tapes– also the topic of ABC's Diane Sawyer special tonight– this introduction may not have been as necessary as O'Reilly thought at the time. The interview with Kennedy includes some strong statements against King, Jr. for his various personal failings and, as Davis explained, rumors about such things as "arranging a otel with prostitutes" which "we know that's part of the Martin Luther King legacy." Apparently philandering was not something Kennedy approved of, though many such rumors came out of wiretaps by FBI head J Edgar Hoover placed on King, as he believed him to be a communist.
Besides King, the tension between the President and Vice President Johnson seemed to impact Jackie Kennedy's opinions as well, something which Davis described as a power struggle between two "men from different worlds." O'Reilly, citing by way of example the relationship between President Barack Obama and Vice President Joe Biden, suggested this conflict in the modern world may be somewhat difficult to understand, especially at the magnitude with which Kennedy and Johnson experienced it.
The segment via Fox News below:

Have a tip we should know? tips@mediaite.com