Bill O'Reilly Gives Bill Clinton The 'No-Spin Zone' Treatment In Extended Interview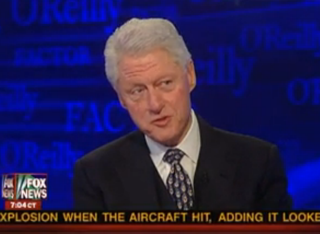 Bill O'Reilly opened his show announcing a particularly exciting interview double-header today– yes, 2012 Republican candidate and former House Speaker Newt Gingrich would be on the program, but not before an extended interview with his former nemesis, former President Bill Clinton. O'Reilly got the former President's opinion on just about every political topic in the news today, but, naturally, the most fascinating tidbits of the interview related to Gingrich and his ability to win the nomination. President Clinton had a thought or two on this.
RELATED: Shocker: Bill Clinton Agrees With Bill O'Reilly That The Media Favored Barack Over Hillary
Beginning the interview with a discussion on the Simpson-Bowles commission report, current tax rates, and whether Democrats were campaigning on a "class warfare" agenda, O'Reilly then shifted gears to ask President Clinton about Obamacare, and whether the Supreme Court would overturn the individual mandate. "I don't think so; I hope not," Clinton responded. The rest of the first segment focused on immigration and other issues particularly.
Clinton told O'Reilly he believed that President Obama appeared more vulnerable now that he will in the general election because "he's out there running against himself out," though O'Reilly countered that he believed 2012 would be a referendum vote. That said, O'Reilly turned to Gingrich, and his relationship with the former President.
O'Reilly didn't mince words in asking, "do you respect him as a man?" Clinton responded that he did not "disrespect anybody who works with me in good faith," adding that Gingrich was a "scorched earth politics" sort of actor and he saw much of that during his tenure. That said, Clinton did note that he "eventually hammered out a really productive relationship with him." His ultimately good relationship with Gingrich aside, Clinton answered fairly strongly that he would not vote for Gingrich, but because "I'm going to vote for Obama," and that he could not take the Democratic vision for the country out of the equation to judge whether he would vote for Gingrich.
The hypothetical vote questions continued, as O'Reilly asked Clinton whether he would vote for Mitt Romney in New Hampshire. Clinton answered that he was "not going to get in that Republican Party" with a chuckle, but later recanted and added that he liked Jon Huntsman, and argued "he arguably has the most consistently conservative economic record of anyone running."
RELATED: Gingrich Doubles Down On Ignoring Judicial Decisions: 'Are Judges Above The Rest Of The Constitution?'
O'Reilly then pushed him to answer why he believed the media supported more liberal candidates– in 2008, to the detriment of Secretary of State Hillary Clinton. Clinton hesitated to answer, instead adding, "nothing I say will be helpful on this," and after some repeated questions arguing that he did not believe the media was consistently liberal. That said, he repeated with humor, "nothing I say will result in anything good happening in America."
O'Reilly's full interview with Clinton via Fox News below:

Have a tip we should know? tips@mediaite.com