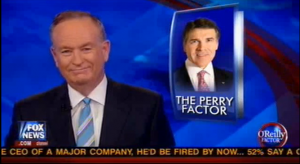 On Thursday night, The Factor host Bill O'Reilly took a look at the recent Fox News poll of Republican voters' thoughts on the current candidate field. O'Reilly noted what is becoming the main takeaway of the poll — that support for Texas Governor Rick Perry is falling among Republican voters. He comes in at 19 percent (down 10 points), while Mitt Romney now enjoys the support of 23 percent of GOP voters. Herman Cain, meanwhile, had a "very good showing" at 17 percent. (For a… different perspective on the same poll, take a gander at Lawrence O'Donnell's assessment.)
O'Reilly then offered Perry a helpful bit of media advice:
Now, we've tried to get Governor Perry to come on The Factor. He told me himself he would, but we cannot get a time frame from his people. Seems to me the Governor would benefit by going on high-profile programs to state his case directly to you without eight other people on the stage.
RELATED: Bill O'Reilly To Bachmann: Are You Treated Differently Than The 'Eight Sweaty Men?'
O'Reilly then turned things over to radio host Laura Ingraham, who did manage to have Perry as a guest. So what's her secret? "You just need to get better bookers!" Or… try sending him a "Teddy Gram." "You bribed him," whispered a stunned O'Reilly. "Give 'em a cowboy hat and those Texans'll do anything," Ingraham joked. HEY. Why is everyone being all cute tonight? Where's the yelling? This is not the nightly opinion news media programming I know and tolerate.
On a more serious, less fuzzy note, Ingraham opined that Perry's people are in "hunker down mode" at this juncture, but she believes he will — and should — eventually appear on O'Reilly's program. As O'Reilly sees it, such an appearance is imperative to Perry's success as a candidate given he has to make efforts to be "known" by Americans outside of Texas. And, then, this:
O'Reilly: Now, would I go on over to MNSBC? No. That's ridiculous.

Ingraham: No, no audience.
There it is. Whew! Back to normal. I was getting scared with all this talk of teddy bears and chocolates.
Watch the video, from Fox News:
Have a tip we should know? tips@mediaite.com