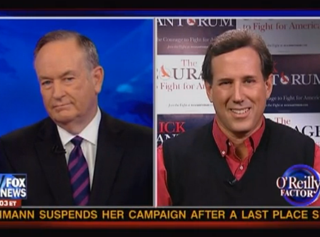 Earlier in the week, Rick Santorum complained that he had not been invited on The O'Reilly Factor, and after his rumble tonight with Bill O'Reilly, he may have regretted calling the host out. O'Reilly was fair but extremely firm, not challenging Santorum's views on birth control and gay marriage but challenging Santorum to explain exactly how he would avoid being painted as an extremist.
RELATED: Rick Santorum Accuses Bill O'Reilly Of Refusing To Interview Him Because He 'Wasn't Worthy'
After his Iowa recap on "Talking Points Memo," O'Reilly introduced the former Senator and asked him whether he agreed with O'Reilly. He did, except he believed "we're going to do surprisingly well [in New Hampshire]" by nabbing the undecided vote and taking away Mitt Romney voters who were supporting him out of a sense of inevitability. The warm-up question over, O'Reilly then turned to Santorum and asked, "Are you ready to be demonized?"
"This isn't my first rodeo," Santorum responds, an answer O'Reilly accepts but still follows up on as if Santorum doesn't quite understand what that means. "It's going to be a national demonization and you're going to be portrayed as an extremist," O'Reilly explained, "and some of your views are out of the mainstream according to polls." He noted in particular that 98% of Americans support the freedom to use contraceptives, while Santorum believes states have a right to ban them. Santorum noted that the Vatican had restricted the use of them and that he believed states that approved of them should be able to legalize them as well. O'Reilly found the Catholic Church comment somewhat problematic from a political standpoint, clarifying to Santorum that "it's not a dogma, it's a doctrine made by man"– one that most American Catholics don't really bother with. O'Reilly also pushed him on his anti-gay marriage views, and how most Americans would not be particularly keen on revoking marriage licenses to couples already wed. "I don't think being for marriage being between a man and a woman is extreme," Santorum replied, explaining that he had much to offer outside of those issues, like his plan for the national debt and economy.
O'Reilly then allowed Santorum to clarify two sets of potentially controversial comments he made– one similar to Newt Gingrich's that he would be heavy-handed with activist judges. To that one, Santorum explained that he would not subpoena individual judges on cases, but he would abolish the 9th Circuit. The second was on his comment widely reported to be that he didn't want to make "black people's lives better" with other people's money. Giving him the benefit of the doubt, O'Reilly explained Santorum's position, but then asked him why he brought race into it, joking that he was not the one criticizing, but rather, alerting: "I'm like the ghost of Christmas Present, I'm telling you what is happening."

RELATED: Did Rick Santorum Really Talk About Making 'Black People's Lives Better' With 'Somebody Else's Money?'
Santorum finally clarified the controversial comment– which many wondered if it had been properly quoted as "black people." Well– sort of. "I didn't say that," he told O'Reilly. "What I started to say was 'bl,' and then, 'bllllllurgh*.'" Ok, so that explains that. He went on to explain that "I don't use the term 'black people' often" and that he had done much by way of helping the black community.
The interview via Fox News below:

*rough transliteration
Have a tip we should know? tips@mediaite.com