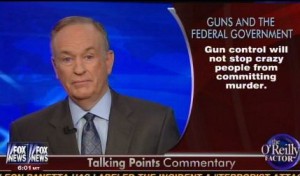 Bill O'Reilly opened his show tonight reacting to President Obama's speech earlier today on guns. O'Reilly offered his two cents on how the government should handle the gun control issue, saying that while banning guns would be completely ineffective, the government should take action on implementing some restrictions and making gun crimes federal crimes.
RELATED: Here Are The 23 Executive Actions Pres. Obama Just Signed To Curb Gun Violence
O'Reilly told viewers that gun control wil "not stop crazy people from committing murder," but acknowledged that the government has an obligation to push for laws that do not infringe upon the rights of law-abiding citizens. He said he has no problem with background checks and gun restrictions, but such things should be left up to individual states to decide.
However, as for prosecuting gun crime, O'Reilly argued the more effective course would be for Obama to prosecute all gun crimes as federal crimes. He pointed out that more people were killed by guns in Chicago in 2012 than total deaths of U.S. troops in Afghanistan. O'Reilly proposed a ten-year mandatory federal prison term for anyone convicted of gun violence, even a person who is arrested for trying to rob a convenience store with a firearm.
O'Reilly also pointed out that the law passed by the New York legislature banning assault weapons also prohibits publishing the names of legal gun owners, taking a swipe at the Journal News for doing such a few weeks ago.
Watch the video below, courtesy of Fox News:
—–
Follow Josh Feldman on Twitter: @feldmaniac
Have a tip we should know? tips@mediaite.com
Josh Feldman - Senior Editor