Bill O'Reilly Hammers Obama's Economy, Al Sharpton For Alliance With 'Harmful' Black Culture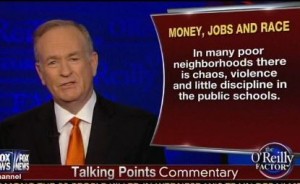 Bill O'Reilly tonight tore into President Obama's economic speech on Wednesday for continually talking about inequality without actually talking about the reasons inequality exists, as well as taking Al Sharpton to task for not doing enough to address problems in the black community. And not only this, but O'Reilly was disturbed by Sharpton's ties to people like artist Lil Wayne, who O'Reilly said is a particularly bad role model for young black men.
RELATED: Sharpton And Panel Bash O'Reilly, Right-Wing Radio: They Stoke Racial Fears For The Ratings
O'Reilly rolled his eyes at Obama's "familiar theme" of trying to blame income inequality on the nation's woes. O'Reilly pointed to weak economic growth and how there's "little incentive for businesses to pay workers more," but as far as he's concerned, "Obama doesn't seem to understand that."
O'Reilly brought up the high unemployment rate in the black community, claiming that "in many poor neighborhoods, there's chaos, violence, and little discipline in the public schools." He also cited the high out-of-wedlock birth rate to say that "many young blacks are unsupervised and prone to bad behavior."
This brought O'Reilly to Lil Wayne, who got an endorsement from Mountain Dew pulled after releasing a song with a controversial lyric about Emmett Till. But Sharpton, who has publicly feuded with Lil Wayne in the past, stepped in, and O'Reilly was amazed at how Sharpton, who's supposed to be a civil rights leader, is having his book distributed by Lil Wayne's parent company. O'Reilly charged, "Al Sharpton is in business with people who put out entertainment harmful to children."
He concluded that Sharpton clearly doesn't care about who he's tied to and that the failure of civil rights leaders means young black men will continue to be at risk.
Watch the video below, via Fox News:
—–
Follow Josh Feldman on Twitter: @feldmaniac
Have a tip we should know? tips@mediaite.com
Josh Feldman - Senior Editor